By CHUSA SICHONE and ABIGAIL CHIYENI –
THE National Road Fund Agency (NRFA) is between October and December this year introducing a cashless payment mode at all toll stations.
The move is aimed at preventing officers at the toll stations from falling prey to the temptations that come with handling cash besides guarding against thefts by criminals.
NRFA public relations manager Alphonsius Hamachila said yesterday in response to a press query that tests for the cashless payment system were currently being conducted at the toll stations.
"The cashless payment system is on test run and will be implemented in the fourth quarter of this year," he said without giving further details.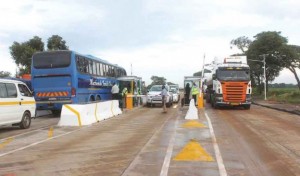 NRFA chief executive officer Wallace Mumba said in January this year that the agency wanted to introduce a card payment mode at all toll stations and strengthen synergies with other road sector agencies to enhance revenue collection.
The Government introduced the tolling programme in 2013 and the money collected from the initiative is meant for road maintenance activities.
Meanwhile, the NRFA has commenced construction of a toll gate in Mbala District in the Northern Province at a cost of over K200 million.
Mbala District Commissioner Kedrick Sikombe said in an interview that the toll gate would be on the Mbala-Nakonde Road, 43 kilometres from Mbala town centre.
He said construction of the toll gate started last week and was expected to be completed by the end of September.
He said the project had provided jobs for the local people and that the quality of works so far was excellent.
He said the district borders with Tanzania had a lot of traffic.
He added that the toll gate will bring great economic value because the collection of toll fees will help Government realise money for the continued maintenance of roads.