Published On February 17, 2014 » 2700 Views»
Opinion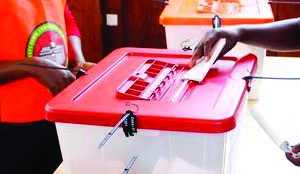 THE upcoming parliamentary by-election in Katuba Constituency has once again provided an opportunity for all participating political parties to put their prowess to a stern test in a battle that may define their political direction.
In a growing democracy such as Zambia's, a by-election is an appropriate litmus test for both the ruling and opposition parties as they jostle for political supremacy.
The by-election which is set for February 25, this year in Chibombo District will therefore act as a yardstick for political players to gauge how they have performed thus far because people will only vote for a candidate who will be relevant to their needs.
In the recent past, by-election results have shown a consistent pattern in which the oldest political party in the country, UNIP, has not shown any sign of resurrection despite participating in almost all the polls.
The Forum for Democracy and Development (FDD) has equally been struggling to get out of political doldrums without success while political fortunes have drastically plummeted in the MMD. However, the former ruling party still has some reasonable presence in Parliament.
We therefore expect that politicians will exercise utmost civility and co-existence as they crisscross the vast rural constituency beset with a myriad of problems.
As political leaders in Katuba continue with their campaigns, they should focus their energies on selling their candidates and articulating their manifestos as opposed to character assassination and violence, which have in the past characterised polls in other parts of the country.
The candidates and their campaign agents should explain to their electorate how best they will deal with challenges if they are voted into office.
On Saturday, President Michael Sata was in Katuba and made a clarion call to the voters to align themselves with the ruling  Patriotic Front (PF) for effective implementation of development programmes such as infrastructure development.
The Head of State believes strongly that it is easy and more effective for him and his party to plan and deliver development with his own Members of Parliament (MPs), who espouse the PF manifesto.
On the other hand, opposition leaders are seeking to increase the number of MPs to ensure checks and balances in Government.
UNIP president Tilyenji Kaunda has expressed confidence that his party will this time around emerge victorious and that his campaign team is articulating party programmes on agriculture, education and health.
Many more political leaders have traversed the rural constituency.
It is up to the electorate to choose a hard working and well-balanced candidate whose party has the ability to steer development and attend to all their needs.
The heavily contested by-election will define the political direction for some parties such as UNIP which has performed badly in all the polls. However, UNIP should not be discounted at this point in time.
From the long list of contestants who are campaigning, the electorate has the opportunity to decipher messages of substance  and not sugar-coated campaign rhetoric.
Yes, the electorate will have to choose from the long list: Moses Chilando of PF, United Party for National Development (UPND)'s Jonas Shakafuswa, Patricia Mwashingwele of Alliance for Better Zambia (ABZ), Joseph Mushalika (National Restoration Party), Shakespeare Mwakamui (National Revolution Party), Allan Malawo (UNIP) and MMD's Cecil Holmes.
The winner will definitely come from this list!
A win in any by-election for a political party gives confidence and a positive political direction while perpetual losses are a sure sign of political failure for any organisation.
Katuba is surely a litmus test!