THE re-launch of the national airline, dubbed Zambia Airways has been deferred to January 1, 2019, from the earlier scheduled October 24, 2018. 
Transport and Communications Minister Brian Mushimba said this was to afford the shareholders of the, to be re-launched Zambia Airways Limited enough time to put all modalities to ensure the success of the firm in place.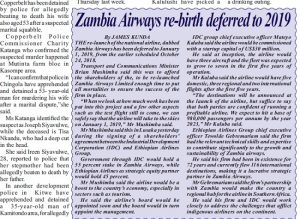 "When we look at how much work has been put into this project and a few other aspects such as the test flight still to come, we can safely say that the airline will take to the skies on January 1, 2019," Mr Mushimba said.
 Mr Mushimba said this in Lusaka yesterday during the signing of a shareholders' agreement between the Industrial Development Corporation (IDC) and Ethiopian Airlines Group.
Government through IDC would hold a 55 percent stake in Zambia Airways, while Ethiopian Airlines as strategic equity partner would hold 45 percent.