Published On June 18, 2021 » 1538 Views»
Opinion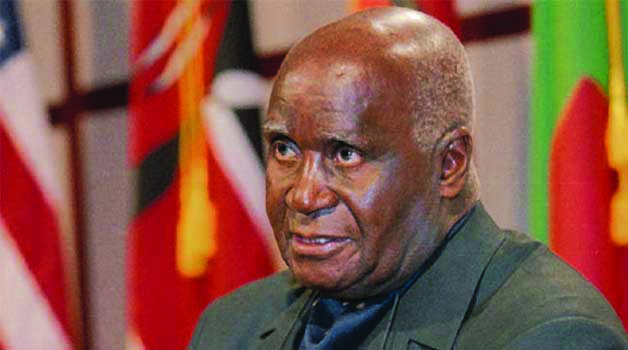 A DARK cloud hovers over Zambia and indeed the whole of Africa!
Today, Zambia mourns the demise of its founding President Kenneth Kaunda who died yesterday at the age of 97.
Dr Kaunda, who died at Maina Soko Military Hospital in Lusaka, was in May this year honoured with a special award by the African Union (AU) in recognition of the role he played in the liberation of Zambia as well as Africa.
The whole of Africa is mourning this great son of the soil, the last of his generation and sort who harnessed the hope of setting African free from the chains of colonialism.
Dr Kaunda, who ruled Zambia from 1964 to 1991, was the sole survivor of Africa's liberation struggle heroes that gathered for the launch of the AU's forerunner, the Organisation of African Unity (OAU), exactly 58 years ago in Addis Ababa, Ethiopia.
Dr Kaunda was among Africa's political heavyweights who led their respective countries to freedom from colonial rule.
They included the likes of Kwame Nkruma of Ghana, Julius Nyerere of Tanzania, Robert Mugabe of Zimbabwe, Nelson Mandela of South Africa,
Samora Machel of Mozambique, Sam Nujoma of Namibia and others whose names will forever be etched in the history of the continent.
Dr Kaunda is credited for having inherited a country that was rich in national resources and for putting in place an ambitious economic blueprint that was aimed at building industries in every corner of Zambia.
Under his rule, Zambia hosted many regional movements that were fighting for freedom in their countries.
Because of that, many freedom fighters who later became leaders in their own countries still call Zambia their second home.
Through the national motto of One Zambia One National, Dr Kaunda was also determined to conquer tribalism and regionalism, and successfully built Zambia into a haven of peace where 72 tribes have lived side by side.
On his watch, Zambia encountered economic hardships in the 1970-80s after the country's economy was battered by a dramatic fall in global metal prices such as copper, which has been Zambia's leading export product.
But rather than making him to give up, the economic challenges led Dr Kaunda to seek support from China which responded by helping to build the Zambia-Tanzania Railway (TAZARA), linking Zambia to the East African cast through Tanzania.
Dr Kaunda would also be remembered for having introduced the one party rule in 1972, a decision which was reversed on December 4, 1990, when the multi-party political system was reintroduced following pressure fanned by economic hardship.
During the multi-party elections that followed on November 1, 1991, Dr Kaunda's 27-year-rule over Zambia came to an end after he lost the election to Dr Frederick Chiluba of the Movement for Multi-party democracy (MMD).
Since then, the former President dedicated his energy to the fight against HIV/AIDS as well as to promoting peace and tranquility in Zambia and beyond.
The demise of Dr Kaunda marks the end of an era of great political leaders not just in Zambia, but across Africa.
Such is a man the world is mourning today and May his soul rest in eternal peace!