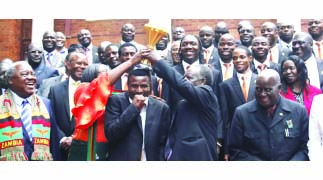 By KALUMIANA KALUMIANA–
FORMER Zambia coach Patrice Beaumelle has paid tribute to the late First President Kenneth Kaunda.
Beaumelle said in an interview from France that he was very moved to hear of Kaunda's passing.
"You know that all of us who knew him in Zambia know that he was at the same level with Nelson Mandela because of what he did for Africa. I want to sincerely express my sadness. When I heard the first president of mother Zambia Kenneth Kaunda passed away, I was very sad.