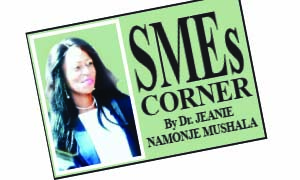 KASUMBALESA is a border between Zambia and the Democratic Republic of Congo (DRC). It is famously known as a hub for trade for Small and Medium Enterprises (SMEs).
This border has a marketplace where a variety of goods are sold particularly agriculture produce ranging from eggs, fruits, beef, chickens, vegetables, two numerous to mention.
Other than agriculture produce, there are other commodities such as cement and drinks.
There is an influx of trucks ferrying cargo comprised of a variety of commodities because of the opportunities in Zambia and DRC.
In last week's article, the content was based on the activities at Lusaka City Market which is in relation to this week's article on the business at Kasumbalesa Border Market.
The market participation for SMEs has received increased recognition in recent years in the absence of formal employment.
Kasumbalesa Border Market is a prominent place for traders dealing in a variety of business activities.
People who have travelled or done their trade at Kasumbalesa Border Market call this place "crazy" because of the magnitude of its business.
Although there is chaos with different people from all walks of life going about their business, opportunities to earn income are there.
There is heavy traffic of pedestrians and trucks in which goods are smuggled into DRC. However, this trend is now being improved in terms of management because of the initiatives that both governments are putting in place to improve the way things are done for purposes of bringing sanity.
Imagine traders selling live chickens, goats and cows only to be sold after two weeks! This implies that livestock need to be fed for them to maintain desirable weights to fetch a good price.
In some instances, the livestock may be faced with infectious diseases, whilst at the marketplace. However, the livestock may still be bought for purposes of consumption or breeding which is a huge challenge.
This problem also applies to perishable goods such as fish and tomatoes which may be discarded and create losses or reduction in profits.
The border market attracts a lot of revenue for traders some who come from far flung areas.
But not everyone's days are successful. Some have been defrauded due to recklessness or lack of knowledge of how to go about trading in the area.
To penetrate through the market successfully requires connections, many have partnered with residents and other traders who are familiar with Kasumbalesa to ease the challenges that traders face.
It becomes a huge problem when one blindly takes goods especially perishable goods without knowing exactly what is expected.
The place is hostile in the sense that everyone is fighting for the same market. To succeed in such an environment requires resilience, patience and passion.
The border market enhances trade for those who do not have market for their commodities in their local areas where business is stiff hence the need to relocate to the famous Kasumbalesa Border Market.
Lucky ones sell their goods within a few days and go back while the unlucky ones stay for weeks or months. You must play your cards right and calculate your risks before proceeding.
It is interesting to note that those who have persevered have successfully managed to penetrate through the market and have continued to do well in their business.
Kasumbalesa has great opportunities for business growth but it is not for the faint hearted. One must have a lot of information, prepare the mind and make provisions in case the business does not go as planned.
A few have testified that it is profitable but there is a lot to consider before deciding to take your goods there. Collaborations and connections with the right people are key to success.
For Comments: email jeanmushala@gmail.com
Mobile: 0966751626
The Author is a seasoned banker, has a Bachelor of Arts, honors degree in Business management/a Master of Business Administration from University of Sunderland (UK) and has a Doctorate in Business Administration from the Atlantic International University, United States of America (USA).