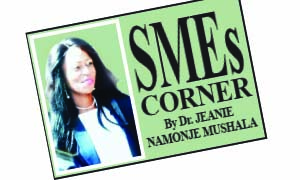 LIFE is a journey which is full of ups and downs. Growing up, we all have the question posed to us on what we want to become when we grow up?
The prevalent responses that we get are becoming a doctor, nurse, engineer, banker, accountant or teacher. Very few chose to be entrepreneurs because of the belief that many have.
They believe that getting educated and working in formal employment is the only field that can lead to success. Much as we appreciate that education plays a significant role in life, it is also good to think outside formal employment to subsidise one's revenue.
Parents have an influence on their children's career path and chose what they want their children to become.
However, a positive choice in life that steer you in the right direction can be made based on the skills, interest and capabilities.
People are born with different talents which can direct their paths in life. Those with a high degree of skill, knowledge and expertise in their respective fields often do well because of their ability to anchor and make the right decisions in the job they are destined to do.
The other prototype does not think of working, disregard education because of the belief that with or without any form of education they can succeed in business if they have clear goals, disciplined, self-starters and are self-motivated.
This kind of people is street intellectuals who pounce on any business opportunity and take advantage of problems with a hope of finding solutions.
They have a natural (instinctive) entrepreneurship spirit that drives them to succeed. We also have another group that is adamant regardless of their level of education, skills set, knowledge or expertise.
They are often complacent with what they do and rarely want to do anything else to elevate or improve themselves unless pushed or forced to do so.
They always want opportunities to come to them on a silver plate without them having to put in much effort.
Multitaskers on the other hand can do multiple things, such as having entrepreneurship skills, are in formal employment and pounce on any other opportunity that comes their way. They are wise and think about the future.
They are good planners and often put contingencies in place in case things fail. They appreciate having multiple streams of income as a buffer.
Making decisions when there is uncertainty about the path you want to pursue is a challenge. This requires giving it a lot of thought considering that we often draw our decisions from the influence of friends and family whose impact can be detrimental.
When someone is successful in their field that does not mean that another person will automatically thrive when you follow their path because we all have different destinies.
Most people lack information and often depend on irrelevant information to decide which culminate into problems. Gauging and analyzing our capabilities are key to choosing the right path.
Nonetheless, any decision that one makes affects our judgement either positively or negatively depending whether it is our calling or not. It is imperative that proper judgement is made because not everyone is called to do business or to work in a particular field. Others are blessed to multitask and do well in all areas.
Let us think positively, follow the path we are destined to be and eliminate what is not our call to avoid wasting time.
For Comments: email jeanmushala@gmail.com, Mobile: 0966751626
The Author is a seasoned banker, has a Bachelor of Arts, honors degree in Business management/a Master of Business Administration from University of Sunderland (UK) and has a Doctorate in Business Administration from the Atlantic International University, United States of America (USA).