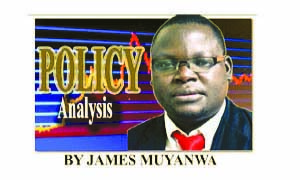 ON April 14 this year, we looked at economic provisions of the United Party for National Development (UPND) manifesto for the just-ended general elections.
This is a blueprint on which the party was elected on August 12.
This manifesto 'defeated' 16 others including mine which we featured last Wednesday.
Since most of the contents of this document will soon be crafted into the government policies we will, occasionally, be referring to them.
Broadly, the manifesto is anchored on 12 pillars which include the aspects of the social sector.
These can again be condensed into two main columns, one on reuniting the nation and the other on rebuilding the economy.
Usually, the major challenge for politicians is to adhere to what they said during campaigns.
In short, they sometimes promise things they do not even believe in such that if confronted by electorate on the need to deliver on their promises after being elected, they would dismiss that saying, "those were campaigns!"
Therefore, as I was listening to President-elect, Hakainde Hichilema first address on Monday, I was intently looking out for any such inconsistencies and departure from his campaign messages on the economy.
Reassuringly, Mr Hichilema reiterated his position on many questions.
Mr Hichilema has exhibited high sense of consistency in line with the manifesto's 12 key focus areas which include creating quality jobs, eradicating poverty, attaining macroeconomic stability and prioritizing areas of national development.
Others are to transform and diversify the economy to meet the aspiration of the people, reduce socio-economic disparities among regions, eradicate power blackouts through better management of existing facilities and eradicate government waste, corruption and strengthen governance.
Obviously, some of these areas are beyond the scope of this platform which mainly concerns itself with economic policy issues.
The UPND says it seeks to realise Zambia's aspiration of becoming a prosperous middle-income country through three main phases.
These phases are the recovery and stabilisation, the steady growth and take-off.
According to the manifesto, from August 2021 to the end of the year, the UPND had pledged to firmly implement credible policies with five objectives.
The five objectives are to lower the fiscal deficit, restore market confidence, bring stability to the economy, enable a speedy recovery in economic growth and ensure debt management and sustainability.
Public debt, which UPND alliance partner, Felix Mutati once described when he was Finance minister as the elephant in the room, is a thorny issue.
It is, therefore, cheering to hear Mr Hichilema hint at how the new administration intends to confront the debt which has become highly unsustainable and hence choking to the economy.
Mr Hichilema seems to already have a road map on that, assuring that his team is already in discussion with the lenders on how to ensure a win-win situation
He says that the high debt, some of which was accrued wrongly and incompetently, is choking Zambia's development and the lenders who have been engaged know what his administration stands for and what to expect from it.
On mining which is the country's economic mainstay, Mr Hichilema says Zambia requires an attractive mining policy to woo investments in that area.
Mr Hichilema, however, notes that before looking for external investments, there is need to encourage existing investment to grow, but for that to happen, there must be good return on investment and benefits to workers, suppliers, contractors and the Treasury.
Talking of restoration of market confidence, some economic benchmarks including the foreign exchange rate have positively started responding to changes.
After Mr Hichilema was declared winner on Monday, the Kwacha appreciated the most since 2015 while the Eurobonds due in 2024 jumped by almost 10 per cent to 73.56 cents on the dollar in London, posted the biggest gain since April 2020.
A check at Lusaka's Golden Coin Bureau de Change in Lusaka's Cha Cha Cha Road found the local currency had appreciated by nearly one
Kwacha, buying at K18 .50 for a dollar from 19.45 at the last close of business last Wednesday.
It was selling at K18.85 from last week's K19.75.
A similar scenario was obtaining at BIMM Bureau de Change where the Kwacha exchange rate was at K19.30 (buying) as compared to K19.45 last Wednesday.
It was selling at K19.65 from K19.75 last Wednesday.
On interbank, the Kwacha had appreciated by more than 10 ngwee.
During his campaign, Mr Hichilema had insisted that if elected he would be sworn in around 10:00 hours and that by 14:00 hours of the same day the local currency would have appreciated.
According to Bloomberg, the president-elect will need to reach a deal with the International Monetary Fund (IMF) for a bailout.
Near-record prices for copper and the $1.3 billion transfer from the IMF due this month will boost Zambia's coffers.
Generally, Mr Hichilema's first address, has created hope to market players and confidence in the economy once more but that needs to be sustained to ensure full economic recovery.
In some areas, the new administration should not shy away from making tough economic decision, which we will look at in the future, meant to cure the current economic malaise.
For comments call: 0955 431442, 0977 246099, 0964 742506 or e-mail: jmuyanwa@gmail.com.