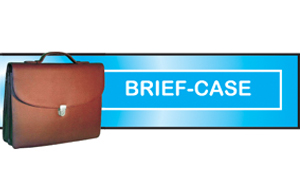 Government plans to lease Mulungushi Textiles to interested foreign investors, is a prudent move that will result in massive job creation especially in Central Province.
This will also give business opportunities to cotton growers who will be assured of a ready market at the textile company.
Perhaps what the Government should now do,  is to urgently look into challenges facing the local textile industry if the sector is to stand stiff competition from cheap and sometimes smuggled products.
High mealie meal prices shocking
Briefcase greatly appreciates the recent offloading of 200,000 tonnes of maize by the Food Reserve Agency (FRA) to millers countrywide.
However,  what is still vexing is why mealie-meal prices have remained high and unaffordable especially to those in rural areas.
Who is pulling the strings? Some one somewhere should be answerable.
Indo-Zambia on right track
THE tentacles  which Indo-Zambia Bank is spreading to almost all corners of the country are indeed very encouraging.
It is also important for the bank to ensure that lending rates especially for rural based Small and Medium Enterprises(SMEs) are kept low and affordable to encourage industrialisation.
With the coming of industrial clusters in all the provincial centres,  Indo-Zambia Bank stands to benefit greatly in the long run.Please keep going.