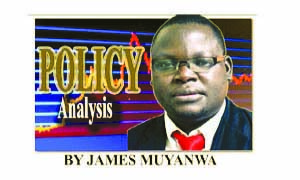 TODAY, we want to delve slightly deeper the allocation towards the economic affairs in the 2022 National Budget.
On the overall, as indicated last week, Finance and National Planning Minister, Situmbeko Musokotwane proposes to spend nearly K34 billion on economic affairs.
"To support Government's agenda for economic transformation and job creation, I propose to spend a total of K33.7 billion towards the economic affairs function," Dr Musokotwane says.
That figure is as compared to K21.5 billion allocated to the sector in the 2021 National Budget which was 18 per cent of the total budget.
Of the amount proposed for this year, K4.9 billion is for road infrastructure which will include the continuation of ongoing road projects and opening up strategic economic routes.
In this year's budget the road infrastructure allocation was K6.2 billion meaning the figure has gone down by about K1.3 billion.
Yet, the Government will further undertake significant works to rehabilitate and upgrade feeder roads across the country to enhance movement of goods like farm produce, as well as people.
To enhance agricultural production, productivity and diversification, a provision of K5.4 billion has been proposed for agricultural inputs, under the Farmers Input Support Programme (FISP).
That figure is a light reduction on the FISP of K5.7 billion for this year.
This is projected to support one million beneficiaries through the FISP, which will be implemented via the comprehensive agriculture support programme.
Mentioning of productivity, that has been a thorny issues past government have seemingly not paid attention to because the emphasis has been high production or bumper harvest as they say.
Interestingly, for next year, the Government contribution will be more than doubled to K3,600 per beneficiary from the current K1,700.
On the output side, the government has proposed to spend K960 million on strategic food reserves, which is a rise on K518 allocated in the 2021 National budget.
To make rural areas attractive for investment and promote rural industrialisation, Government plans to accelerate the rural electrification programme.
This is through the proposed allocating of K362 million to the rural electrification effort, a slight increase on the K307million allocated to the subsector this year.
Due to the importance of energy to the economy, the government plans to implement petroleum development and management, electricity development and electrification management.
It further wants to implement the renewable and alternative energy development and management, energy sector standards and regulations as well as management and support services.
About K106 million of the ministry of Energy budget is earmarked for transfers to Energy Regulation Board (ERB), Rural Electrification Authority (REA) and Office of Promoting Private Power Investment (OPPPI).
This is according to the 2022 Yellow Book which shows a further K1.3 billion which is the largest allocation to be spent on electricity development projects under the ministry.
Out of the K1.3 billion allocated to the electricity development and electrification management programme, K4.1million will be spent on conducting reconnaissance studies for potential solar and hydropower sites countrywide.
These will be to facilitate the development of power plants and increase power investments by the OPPPI.
About K954.2 million is a total of project loans from supporting partners towards various electricity development projects which include the Sustainable Electricity Supply Project and the Kafue-Livingstone Transmission Project.
Others are the Increased Access to Electricity Project and Lusaka Transmission and Rehabilitation Project.
Under the Rural Electrification Programme, K362.3 million will be utilised for continued implementation of grid extension and off-grid renewable projects.
About K15 million will be channeled towards operations for the REA and to cater for the Renewable and Alternative Energy Development and Management, a total of K6.3 million has been allocated.
Of this amount, K3.4 million has been allocated towards salaries for the personnel undertaking this programme and a further K2.9 million has been allocated for general operations.
Further, the government proposes to allocate K4 billion to the Constituency Development Fund for various activities in the constituencies.
Of that amount, K3.2 billion will go towards development interventions in underserved communities in all constituencies while K792 million has been allocated to secondary school and skills development bursaries.
This new entry under this function translates into an average of K25.7 million per constituency compared to K1.6 million allocated to the constituencies in 2021 national budget.
The airport infrastructure will get K1billion with the Kenneth Kaunda International Airport accounting for K886 million and Kasaba Bay K150 million.
The Nansanga Farm Bloc will get K110 million to pioneer the revival of farm blocks and economic estates in the country.
For comments call: 0955 431442, 0977 246099, 0964 742506 or e-mail: jmuyanwa@gmail.com.