Published On January 28, 2022 » 1068 Views»
Features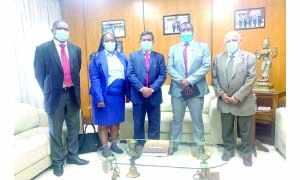 By DOROTHY CHISI –
ZAMBIA and India currently share an impressive bilateral trade and investment partnership.
But there is still potential for the two countries to collaborate further in other sectors.
With many Indian companies interested in pursuing more investments in Zambia, India has continued to contribute towards Zambia's growth and development.
Both countries are now turning towards boosting investment opportunities in sectors such as mining, health, infrastructure and energy.
The economic and political relations between Zambia and India have existed for avery long time.
Since Zambia attained independence, it has collaborated with India which has been forthcoming in providing both political and economic support.
Zambia has been home to a sizable population on Indians, a number of whom become citizens in Zambia's post-independence era and have over the years made a significant contribution Zambia political and economic growth.
Zambia and India share similar aspirations to become global leaders ininnovation, next generation technologies, smart solutions andsustainability.
Initiatives such as Smart Zambia and Digital India go hand-in-hand,allowing both countries to collaborate in knowledge exchange andskillsdevelopment which is aimed at meeting common objectives.
Recently, a delegation from the Lusaka Chamber of Commerce andIndustry (LCCI) paid a courtesy call on Indian High Commissioner to Zambia Ashok Kumar where they shared information relating to a number of sectors that India could explore and invest in.
LCCI vice president in charge of trade and manufacturing Gideon Chibuye, who led the delegation, said Zambia and India have enjoyed good bilateral trade relations for a long time.
Mr Chibuye said despite the physical meetings that have been minimised in recent times owing to the COVID-19 outbreak, the two countries have not lagged behind in there trade and investment interactions which have produced opportunities.
He said the LCCI looks forward to working and enhancing trade opportunities between the two countries through the various programmes that are already in existence.
Mr Chibuye thanked the Indian High Commission in Zambia for playing an active role in businessinformation dissemination, and requested for more expertise in finance
and technology.
He said the Zambia has a lot of natural resources which India shouldtake advantage of and invest in especially in the motor vehicle industry, with thelatest invention of electric cars.
It should be noted that in the area of the motor vehicle industry, Zambia has worked with India for many years during which Tata Zambia Limited, a subsidiary of Tata International Limited, has been established.
Tata Zambia is a car dealer and commercial vehicle manufacturer based in Lusaka, Zambia.
Founded in 1977, Tata Zambia was the first Tata subsidiary on the African continent.
In 1992, Tata Zambia was run as a bus manufacturer.
In 2006, a manufacturing plant for buses and trucks was set up in Ndola.
As part of diversification, the company has been involved in Pamodzi Hotels since 1997.
Tata Zambia's parent company, Tata International Limited or Tata Group, is an Indian multinational conglomerate headquartered in Mumbai.
Founded in 1868 by Jamshedji Tata, the group gained international recognition after purchasing several global companies.
It is one of the biggest and oldest industrial groups in India.
Each Tata company operates independently under the guidance and supervision of its own board of directors and shareholders.
Significant Tata affiliates include Tata Chemicals, Tata Communications, Tata Consultancy Services, Tata Consumer Products, Tata Elxsi, Tata Motors, Tata Power, Tata Steel, Jamshedpur FC, Tanishq, Voltas and others.
The conglomerate also runs Indian Hotels Company Limited, TajAir, Vistara, Cromā, and Tata Starbucks.
There is no doubt that as the world transitions from cars that run on fossil fuels to electric vehicles, companies like the Tata Group, which are global players in automobile manufacturing, will take center stage.
Zambia, therefore, is better placed is having such companies that are already operating in the country, which is Africa's second largest producer of copper, a critical requirement in the production of electric cars.
Mr Chibuye also noted India's world class credentials in medicine which can be a game changer in Zambia's determination to become a regional hub in medical tourism.
"India is one of the best in terms of medical tourism which Zambiashould learn from. We look forward to having more engagements with theIndian government so that we share experiences in trade," he said.
Mr Chibuye said trade between Zambia and India would thrive withthe collaboration and support which is already there from the two governments.
Mr Kumar called on the people of Zambians to supportPresident HakaindeHichilema who has already demonstrated goodwill and istrying hard to help the country grow its economy.
The high commissioner said India isa bigger market and has many sectors thatneed to be explored through trade opportunities by countries such asZambia.
He noted that Zambia equally has many products that are locally produced andIndia could help in marketing and promoting them abroad.
The high commissioner said and this could be done when the two countries worktogether and harmonise their strategies.
He implored the LCCI to come up with a list of 100 prominent andactive companies from the business community which the high commission could engageand later connect with the Indian business executives with a view ofcreating partnerships, dealerships and other business linkages.
Mr Kumar expressed concern that most meetings with Zambianorganisationsare always fruitful but lack follow ups to bring theresolutions to fruition.
He informed the LCCI delegation that he intends to invite a 25-man Zambian delegation to the Indian Trade Fair which will take place sometime in November this year.
"The idea is to give the Zambian business executives an opportunity tointeract with the Indian businessmen and what they will have toshowcase," he said.
Mr Kumar also expressed his desire to help with human resourcedevelopment as well as skills development through industrial traininginstitutes.
He said this is a good time for the two countries to build up onstrategies that could help grow their respective economies.
Economic growth is the main goal of the New Dawn administration which has resolved that Zambia will now employ economic diplomacy in all bilateral relations to take the country forward.
As Zambia and India work towards growing their economies, it goes without saying that the goodwill of Mr Kumar, who interesting in linking the first 100 Zambian businesses to those in his country, should be applauded.