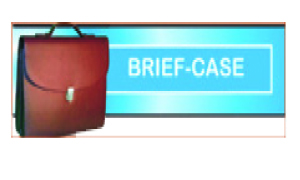 Work on bad roads
THERE is need for Government and stakeholders to urgently look into the rehabilitation of roads in the country.
Of late, the country has witnessed an increasing number of road traffic accidents which have been attributed to poor state of the road infrastructure in some cases.
Briefcase has noted with concern the continued dilapidation of most major roads in the country which is proving costly to motorists.
Harvest rain water
CALLS for the Ministry of Water Development and Sanitation to promote rain water harvesting are timely.
With increased rains experienced in some parts of the country like the Copperbelt Province, devising mechanisms on how to harvest rain water for future use are required.
The harvesting of rain water especially by farmers would help them irrigate plants during the dry season.
Hats off to AC Products
THE decision by AC Products Limited, the owners of Copper Hill Mall to provide free computer lessons for the community, should be emulated by all stakeholders as the country shifts to a paperless and digital economy.
The community should take advantage of the computer lab which houses about 24 computers to become computer savvy.