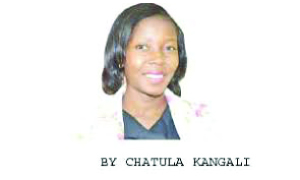 SMALL pelagic fisheries subsector has potential to contribute to the economic growth and alleviate poverty among the rural communities that depend on water body fishery activities.
This is so because the sector has a wide value chain which starts from the fisher, processor, trader, retailer and the consumer.
Fishery scientists describe small pelagic fish as a group of small fish such as sprat sardines popularly known as "Kapenta" in Zambia.
In Zambia, Kapenta is common and fished on Lake Tanganyika in Mpulungu District, Northern province which accounts for about 70 per cent of the total sprat sardines fished in the country.
Kapenta has for a long time been a source of cheap protein among the poor households in the country with rural households accounting for half of the fish consumption followed by urban poor who account for 30 per cent.
Most of the Kapenta in the country is harvested by small-scale fishers who sell to markets across the country and export some to the Democratic Republic of Congo (DRC).
According to the ministry of livestock and fisheries, Kapenta on Lake Tanganyika accounts for 30 per cent of the total fish produced from capture fisheries in the country with an annual production
of about 28,000 tonnes .The sector provides half of the jobs in the fishing industry with women and youths having the highest share.
The perception on the consumption of Kapenta is now slowly changing, the rich are now consuming it due to its natural satisfaction and high nutritional value and being easy to prepare.
This has led to the increase of the commodity on both the local and international market making it expensive and it's fishing business lucrative.
On average, a five kilogram container commonly known as 'meda' of Kapenta is currently fetching between K300 to K550 across the country.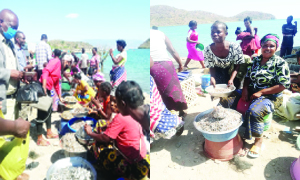 The increasing demand of Kapenta is making trade in the commodity a lucrative business attracting a lot of people to venture into.
On the other hand, the high demand of the commodity is resulting in the industry facing numerous challenges which have resulted in low production of the commodity on Lake Tanganyika.
The lake has witnessed an increase in the use of smaller mesh size nets outside the legally prescribed sizes and a notable increase in the use of active fishing methods.
As a result of this, Lake Tanganyika has witnessed a notable decrease in the catch rates of fishers over time.
Thanks to the Food Agriculture Organisation (FAO) of the United Nations for launching the Fish for Africa Caribbean Pacific (FISH4ACP) for Lake Tanganyika pelagic fisheries.
FISH4ACP is a five-year programme led by the Organisation of African, Caribbean and Pacific States (OACPS) that aims to tackle some of the underlying challenges to sustainable fisheries and aquaculture.
These include low economic performance, limited market access and poor social and environmental sustainability.
The programme is being implemented by FAO and the ministry of fisheries in Zambia with funding from the European Union (EU) and the German Federal Ministry for Economic Cooperation and Development
(BMZ), is focused on enhancing the productivity and competitiveness of fisheries and aquaculture value chains, while ensuring that economic improvements go hand in hand with environmental sustainability and social inclusiveness.
Projects coordinator Alber De Rio Poza says FISH4ACP will work with twelve value chains in twelve ACP countries to maximise economic returns and social benefits, while minimising detrimental effects on natural habitats and aquatic resources.
Ms Poza says the project will pay special attention to small and medium-sized businesses, because of their potential to deliver economic and social benefits, particularly those for women and youth.
In Africa the project is being implemented in Cameroon on shrimp Côte d'Ivoire on farmed tilapia ,Gambia onoyster Nigeria on farmed catfish São Tomé and Príncipe on pelagic Senegal on oyster Tanzania on Lake Tanganyika sprat, sardine and lates, Zambia on small lake pelagic and Zimbabwe on farmed tilapia .
While in the Caribbean the project is being implemented in the Dominican Republic on mahi-mahi, Guyana on Atlantic seabob and the Pacific in Marshall Islands on tuna.
Ms Poza explained that the project whose goal is improved sustainability of fisheries for economic, social and environmental purposes will cost $55 million dollars and end in 2025.
FISH4ACP for Zambia was launched last week in Mbala at Lake Chila Lodge and opened with a two-day discussion with some 40 stakeholders of the Lake Tanganyika kapenta value chain from the private and public sector.
The project will help the small pelagics sector to be stronger and more sustainable in a bid to bring better food, reduce poverty and preserve Lake Tanganyika's aquatic resources.
Speaking during the lunch of the project, FAO Zambia country representative Suze Percy Filippini states that FISH4ACP is the approach of looking at sustainable development from the economic, social and environmental angle.
"In Zambia, this can bring significant benefits to small-scale fishers, processors and traders that contribute to economic growth and help tackle some constraints to more productive and sustainable Lake Tanganyika fishing,"she says.
She notes that the FISH4ACP project that has been introduced in Zambia for the Lake Tanganyika Kapenta value chain analysis is in line with the country's priorities in development.
Ministry of Livestock and Fisheries permanent secretary Anna Songolo who officiated at the event says Zambia is a major producer of small pelagics, a sector that provided jobs and food in the country.
Dr Songolo notes that the FISH4ACP project, introduced in Zambia on the Lake Tanganyika Kapenta value chain analysis, fitted perfectly with national priorities.
"However, innovative solutions are needed to make the small pelagic sector more productive and sustainable," she says.
FISH4ACP's National Professional Officer in Zambia Masiliso Phiri says FISH4ACP demonstrated how FAO is transforming food systems in the countries that it served by achieving the four betters: better production, better nutrition, better environment, better life.
Ms Phiri explains that FISH4ACP will commence activities with an in-depth analysis of the small pelagics value chain to help actors better understand it and to plan the road ahead towards a more productive and sustainable sector.
She says the initiative will explore opportunities for cooperation with Tanzania, where FISH4ACP is also supporting development of the small pelagics value chain.
European Union (EU) delegation to Zambia Mathias Reusing indicates that the project will help make the production of Kapenta more sustainable and profitable thereby reducing poverty.
Frankfort Zoological society- Nsumbu Tanganyika Conservation Programme technical adviser Lloyd Haambiya commends FAO for Pacific FISH4ACP for Lake Tanganyika pelagic fisheries.
He says the project will help bring on board as many stakeholders as possible in the conservation of the pelagic fisheries.
Dr Haambiya says the project will help strengthen the Kapenta value chain on Lake Tanganyika and reduce post harvest losses currently about 45 per cent.
"This project will help cushion a lot of things. It will help facilitate the employment of staff in the department of fisheries and the procurement of equipment for enforcement," he adds.
He urges FAO to in future consider prolonging their project as three years is not enough for beneficiaries and stakeholders to fully understand the project.
There is need for people to have time so that they fully understand and appreciate the project as this will prevent them from drifting back.
Department of fisheries chief fisheries officer Evans Mutanuka also commends FAO for launching the FISH4ACP for Lake Tanganyika in Zambia saying it will help address some challenges that the sector is facing and hindering its growth.
Mr Matanuka feels the FISHACP project will help strengthen the Kapenta value chain on Lake Tanganyika.
He discloses that the department of fisheries faces a number of challenges in the development of the Kapenta value chain and that there is lack of scientific data on stock levels and production, thereby making it difficult to plan.
Mr Mutanuka adds that the current production figures are estimates.
He says the increasing number of undesignated landing sites is making it difficult for the department of fisheries to collect data.
The department lacked financial resources to conduct transboundary surveys, fragmented policy from neighbouring countries and use of illegal fishing gears and nets on the lake.
With such a project whose goal is to promote sustainable fishing on Lake Tanganyika, it is hopeful that the Kapenta value chains will be strengthened thereby enhancing food security and reducing poverty.