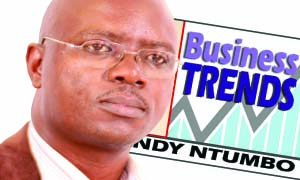 IN less-developed countries, like Zambia, Foreign Direct Investments (FDI) plays a critical role in drastically reducing the existing high levels of poverty, building and strengthening productive capacity, fostering export growth, and creating the much needed large scale employment opportunities for the local people.
Think of it, having to achieve all this feat in a national economy like Zambia's out of consistent repetitive and concerted acts of intentionally seeking, attracting and consistently retaining FDI's.
From the onset, it's important to make it clearer on what FDI is.
What is foreign direct investment (FDI)?
This is an act of a foreign business for example, based in South Africa, Egypt, China, United States and Europe, etc. investing in a sector of their choice, in another country, say Zambia, with the intention of establishing a lasting interest.
This could also take the form of a foreign business making a lasting interest of expanding its business operations into another foreign country, like Zambia.
The key term here is lasting interest and this differentiates FDI from other investments like portfolio investments which are not a lasting interest.
Other than just FDI, local private and public investments are critical too, to foster national economic growth.
It's important once again to note that among Zambia's key focus areas of economic growth are; mining, agriculture, manufacturing and tourism sectors.
Therefore, as the nation focuses on attracting FDI to Konkola Copper mines (KCM) and Mopani Copper mines (MCM), it's equally important to look at the dire need for FDI, local and public and private sector investments in other key sectors of the economy including the tourism sector.

Last week I once again interacted with Worldwide Fund for Nature (WWF) Country Director, Nachilala Nkombo to widen the scope of this discourse to other key sectors of the national economy, not just the mining sector.
I must say once again, Ms. Nkombo stands out as one of those few corporate leaders that are incredibly passionate for what they do, are approachable and generous to contribute to the advancement of their sector in national economic growth.
Why is FDI important in Zambia's economic growth?
The main reason to attract FDI is its invincible potential to deliver substantially an enormous amount of dynamic benefits to a host economy like Zambia's.
FDI bring in dynamism through a "spill-over effect"
Remarkably, a large scale FDI in say KCM, Mopani or indeed Zambia's tourism sector are generally expected to bring along technology as well as other forms of formal know-how related to production, methods, management and organizational practices and the like.
Of course, one of the traditionally expected benefits of FDI's is to get a large number of citizens off the un-employment register.
On the innovative side, Zambian entrepreneurs should expect FDI to spur entrepreneurship development!
Many a reader, would ask, Just how could this happen?
Indeed, as large multi-nationals operate, their business models are so large that they cannot essentially do everything for themselves and by themselves.
In my pre-mentoring training with Venture Capital for Africa (VC4A) Mentor Driven Capital as a Certified Business mentor, I came to learn mind blowing small ways in which start-up businesses can fill the gaps created by FDI's.
Essentially, I learnt that multi-national FDI operations like Coca-Cola cannot track their sales via distribution channels.
These gaps can therefore be filled by start-up businesses in a host country like Zambia.
Instead of youths taking turns expecting the New Dawn Administration Government to employ them directly in the public service, they can create innovative business models that can help FDI operations in KCM, and MCM to create jobs and in so doing contribute to grow the national economy.
That's a practical and innovative way to benefit from FDI and subsequently grow the national economy, isn't it?
Following on, let's look at Zambia's tourism sector vis-à-vis the importance of additional FDI, local, private and public sector investments.
According to Ms. Nkombo, the United Nations Conference on Trade and Development (UNCTAD) 2021 World Investment Report, FDI flows into Zambia declined from USD 548 million in 2019 to USD 234 million in 2020.
This decline was attributed to the global economic crisis that was triggered by the Covid-19 pandemic.
The report further notes that in Zambia FDI is dominated by the mining industry.
Think of it, apart from the lodging and Hotel aspect (example of Avani Victoria Falls resort etc.), FDI in tourism industry in Zambia is still in its infancy.
What does this mean?
In a more crude and clearer language, Zambia, compared to other countries, some of which are not as naturally endowed as herself, hasn't invested so much in the tourism sector in terms of public infrastructure, roads, hotels, tourism product development, water activities, travel and food.
Once again, why is FDI, local investment; public and private sector investment in tourism important in spurring Zambia's economic growth?
" A significant part of tourism's development potential stems from the fact that it links together a series of cross-cutting activities involving the provision of goods and services such as accommodation, transport, entertainment, construction, and agricultural and fisheries production.
Its industry structure encompasses a wide diversity of players, ranging from global TNCs to small and medium-sized enterprises (SMEs).
This enables participation in the industry at a number of different scales and levels of the market.
FDI is one of the routes through which developing countries can carry out tourism". Ms. Nkombo said.
The WWF Zambia Corporate leader notes that the Tourism industry contribution to the nation's Gross Domestic Product (GDP) has grown from 2.4 percent in 2012, 3.1 percent in 2015 and seven percent in 2019.
Additionally, the sector contributes 7.2 percent of total employment creation, translated as 469,000 jobs.
Ms. Nkombo further notes that FDI can help in the establishment of strong tourism value chains with clear sequences of primary and support activities, which are strategically fundamental for the performance of the Zambian tourism sector.
A compressively developed Tourism Value Chain system, will certainly contribute to the achievement of various economic benefits in travel services, transportation, accommodation, food and beverage, tour operations, tourism product services and merchandising.
It is because of the tourism value chain that, the tourism's capacity to distribute wealth, reduce poverty, create jobs, and advance the change towards more sustainable consumption and production patterns can be recognized, Ms. Nkombo noted.
Don't miss another exciting edition of next week's article on how Zambia can make FDI work sustainably for her to further her economic growth.
For comments e-mail: ntumbograndy@yahoo.com Mobile +260977403113 +260955403113
The author is the Managing Consultant at G. N Grant Business Consultant, a Chartered Certified Accountant (ACCA), a Master of Business Administration (MBA) holder, with a Specialism in Strategic Planning, and a candidate for the Herriot Watt University (Scotland) Doctor of Business Administration (DBA)