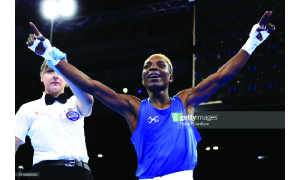 By GODFREY DUBE in Birmingham-
FLYWEIGHT boxer Patrick Chinyemba yesterday won Zambia its first medal at the ongoing Commonwealth Games in spectacular fashion after knocking out Australia's Alex Winwood at the start of the second round.
In this quarter-final bout, the 21-year-old Zambian wasted little time in the second round with a vicious one-two to the face of the older Australian who found himself on all fours.
With the huge crowd still digesting how the Australian won the first round, Chinyemba started the second like a house on fire and after just 19 seconds, sent the crowd into a frenzy with the 25-year-old on the floor.