AS many people aspire to be entrepreneurs, the fact remains that only a few understand wat it takes to be successful.
Mistakes can be made by new or experienced ones and sometimes this is attributed to lack of involvement in the business.
Over dependency on workers is one of the main killers of many businesses regardless of the size.
This week's article is a wake-up call for entrepreneurs who often leave their businesses to be run by workers or third parties without much supervision or involvement.
There are adverse consequences to such businesses when the owner does not show any concern about the business.
There are usually gaps here and there that the owner may not know if left for others to completely run your business 100 per cent without checks and balances.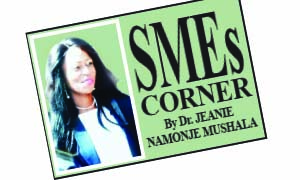 It's one thing to start a business and employ workers to support you in managing the business; however, to succeed it's another story because a lot of involvement is needed to grow the business.
As an entrepreneur, you need to roll your sleeves and get to know typically everything about the business. Your input will help you get to know exactly what is required to do to sell a product or service profitably.
For example, in agribusiness such as poultry farming, you need to know the total number and cost of feed required till the end, what environment is conducive for the birds to grow, the required temperature at each stage from brooding till the end including the quantity of water required as well as vaccinations.
By so doing you will understand your business very well even when you are not available, you know what to expect because you will give proper guidance based on what you already know.
Lack of supervision and monitoring has a lot of pitfalls such as compromising the quality of work being done and decreases the productivity of work crews and ultimately there is increase in inefficiencies.
We have heard a lot of sad stories from entrepreneurs that have left their businesses to be run by workers. Instances where you are being given fake information simply because they know that the owner does not bother to check what's on the ground especially busy people.
In cases such as this one, If you are a busy person, it is advisable to be on top of things, conduct regular surprise checks and let your workers know that you understand what you are doing and the nature of the business failure to which they take you for granted.
Alternatively hire a trusted person who can help you manage and grow your business but monitoring and engagement still suffices in this case.
Many Small and Medium Enterprises (SMEs) have failed because of lack of involvement by the owners.
One wonders how powerful companies disintegrate in a blink of an eye.
A very good example is Enron; it was one of the most renowned companies in America whose expansion and ambitious projects were praised not knowing what was hidden behind the closed doors.
The company later collapsed because of fake information that was being reported and off the books accounting practices.
Entrepreneurs must avoid running their businesses this way but must know everything about the business inside out.
Get to understand the basic processes of your business from beginning to end. When employees get too familiar and know the weaknesses of the owner and often take advantage of them knowing that there is a lot of ignorance.
They take advantage and capitalise on loopholes which may leave your business drained by the time you realise it.
Be there to see, join in to get a feel of that it takes to get it done, verify any information that is being given to you and avoid accepting anything being given to you at face value without confirming.
Leaving everything to be done by the workers alone will not get you anywhere but open a door for problems.
When you are fully engaged in your business, at the end of it, you will be proud of your achievements from your own sweat as the saying goes, there is no sweet without sweat.
For Comments: email jeanmushala@gmail.com
Mobile: 0976132835
The author is a seasoned banker, has a Bachelor of Arts, honours degree in Business management/a Master of Business Administration from University of Sunderland (UK) and has a Doctorate in Business Administration from the Atlantic International University, United States of America (USA).