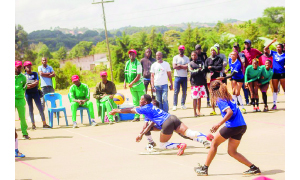 By SAMUEL LUKHANDA-
PRISON Leopards ladies team won the FISD International Volleyball tournament held in Malawi in dominant style and swept the individual accolades to send a message to the other teams in the region.
The Zambian champions beat the tournament favourites and hosts Wolves 3-1 in the final watched by the Zambian High Commissioner to Malawi Panji Kaunda in Mzuzu at Katoto Volleyball Courts.
Prisons coach Barry Muluti was elated with what he saw from his team as they faced potential opponents for the Zone Six Senior Club Championships to be hosted by Zambia later this year.