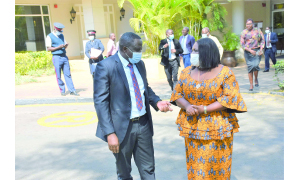 By CHUSA SICHONE-
LUSAKA Province Permanent Robert Kamalata was yesterday unhappy with the sluggish manner participants at a stakeholders consultative meeting on the review of the 2007 National Policy on Environment sang the Zambian National Anthem.
Mr Kamalata said civil servants should take singing of the National Anthem seriously and not doing so as if they were being forced.
"What's the date today? 22nd? No wonder why you were singing the National Anthem like that. So, you are not paid and what suffers is the National Anthem. I think this should come to an end. The National Anthem remains the National Anthem, whether we have been paid, whether we are not paid," Mr Kamalata said.