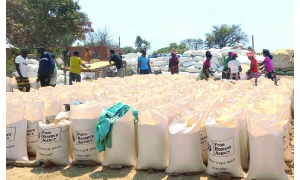 By JANE MWANSA-
LUFWANYAMA Member of Parliament (MP) Ken Siachisumo has said the increased prices of maize and soya beans have attracted more farmers to sell the crop to the Food Reserve Agency (FRA).
In this year's crop marketing season, the FRA has increased the buying price for maize and soya beans to K180 and K550 per 50 kilogram bag from K150 and K500 respectively.
Mr Siachisumo said in an interview last week that most of the farmers in Lufwanyama District had continued to sale their maize for the 2021-2022 farming season to the FRA.
He said the district had recorded a good harvest of maize and soya beans in the last season.