Published On September 24, 2021 » 102 Views»
Features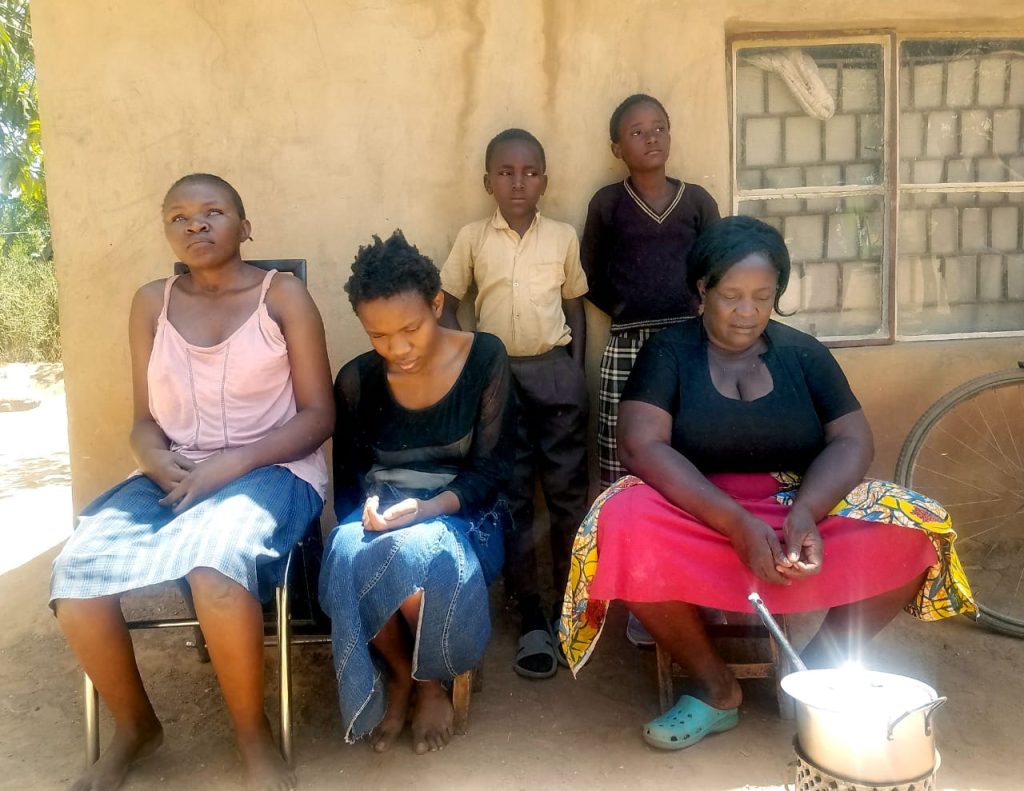 By CHRISTINE KUNDA
"THE grief of losing my husband in 2000 was unbearable. Soon after, I lost my sight in the same year. It was even worse later on when my three children similarly lost sight!" 
This is the plight 53-year-old widow Esther Njovu has found herself in.Blindness has left her family with neither recourse nor hope. Ms Njovu is disillusioned.
The only thing she can do is to commit her and the family's predicament in God's hands.
She said life has never been the same after she lost her husband Timothy Mtonga.
Speaking in an interview recently, Ms Njovu, who lives in Kafue district said she has six children, three of whom are living with blindness.
She recalled that one of her sons, Edward Mtonga, aged 26, suddenly woke up one morning and could not see!
The mother thought he was pretending or playing a sick joke on her.
She grabbed him and gave him a beating to stop him from being naughty.
By the Edward insisted that he was not pretending.
He said he had developed a sight problem.
At the hospital, doctors diagnosed him as having really lost sight and
this was devastating to Ms Njovu who described it as a tragedy.
Several years later, her daughter Neria, 22, who was in Grade Seven at the time, started failing to see properly during class.
She thought some dirt had gone into her eyes, but the following day, she literary could not
see.
She too was taken for check up at the hospital where she was diagnosed with blindness.
This was exasperating for Ms Njovu, but it was not over.
Another daughter, Irene, who was in Grade Four at the time, also lost her sight.
Ms Njovu finally went to the hospital to find out what was behind her children's loss of sight.
The doctors asked to have all the children examined at the hospital to
determine whether the blindness in the family was genetic.
From the tests, doctors established that the children were affected by
a hereditary condition of blindness and hinted that the other children
who had not yet become blind might sooner or later be affected by then same condition.
Ms Njovu's story is so unusual that it would send shivers down one's spine considering the state she is in.
But she has remained determined to fight for her six children who
have endured rough times.
Ms Njovu's daily routine can make one be acquainted with
what it is like to be a mother who is visually impaired and at the same time taking care
of children who are equally blind.
Everyday, Ms Njovu has to struggle her way through life.
She used to be a tailor, but without her sight, she had to stop her
occupation which involves the use of a needle and eyes to
sew clothes.
"I used to be a tailor, but I cannot do that anymore. I am scared of
getting hurt with the sharp needles," she said.
When she tries to start-up a small business, unscrupulous people often
dupe her with counterfeit money.
Because of being in this condition, Ms Njovu cannot afford to pay rental and has often been evicted by landlords because she cannot manage to pay.
Due of moving from one place to another, her children have dropped out of
school, except for Edward who, after being encouraged by his parents, realised that there is no other way to a better, successful life.
This assisted him to pursue special education at Zambia Institute of Special
Education (ZAMISE) college in Lusaka after he completed secondary
school.
His achievement was an inspiration to the family.
It proved that even when one is visually impaired, one can make one's life worthwhile.
" I ask God that my son should achieve big things and my daughters should not
give up on life but back go back to school," she said.
Ms Njovu said her family has had to survive on a scanty budget
that barely provides them with necessities.
It is apparent that the challenge of being blind has gripped Ms Njovu's family because most of the family members are blind and this makes it
difficult for them to find food.
Arising from this, the Roman Catholic Church of Holy Saviour Parish in Kafue has bought a small house for the family so that it does not end up on the streets.
"I am so grateful to the Catholic Church for the house because before,
I never had a permanent place and used to move from one place to the
other with my physically challenged children," Ms Njovu said.
She said it has not been an easy journey for her and the family.
She said sometimes, life to her seems like a dream, but everyday, she wakes up to face the reality.
Ms Njovu said her children dropped out of school at a tender age after they became blind.
She said what her children have gone through has become "unbearable."
Ms Njovu said because of that, her family has been identified as a deserving beneficiary of the Social Cash Transfer (SCT) programme.
She said the programme has helped her to look forward to a promising
future for her family.
Ms Njovu is among the SCT beneficiaries in Zambia who are receiving K300 every month.
She said she uses the money to cater for the family's daily needs.
 "My family receives K300 under the Social Cash Transfer progamme that
is helping us. However, it is inadequate to cater for other needs
like school, so my two children who are physically challenged have
dropped out of school because we cannot afford to pay for school
fees," she said.
The SCT has continued to be a strong social safety net
that enables poor and vulnerable households
like that of Ms Njovu, which rely on support to earn a living because most family members cannot work due to their situation.
It is an undeniable fact that the SCT, with
support from the United Nations and other cooperating partners, aims
at reducing extreme poverty and its inter-generational transfer.
The SCT is being implemented by the Department of Social Welfare under
the Ministry of Community Development and Social Services.
The programme has become a key pillar for vulnerable households like that of Ms Njovu.
It is the SCT which has helped to support Ms Njovu since its
inception in 2017.
The programme is a milestone that has changed the life of Ms Njovu and her family.
Community voluteer Manyando Mulwanda said Ms Njovu's family had for a
long time depended on well-wishers to help them with their needs.
Mr Mulwanda said through the Office of  Social Welfare under the Ministry of Community Devlopment and Social Services, Ms Njovu's family is a rare special case under the SCT programme.
"The community indentified Ms Njovu's family as one of the Social Cash
Transfer beneficiaries because this household has most of the family
members that cannot work and need immediate help," he said.
It has not been easy for the family, but through the SCT, Ms Njovu's family is looking at life positively despite an acquired disability that has tested her ability to change the family's destiny.