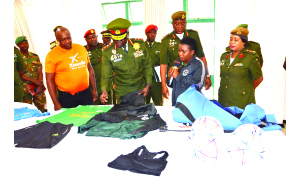 CHIPEPO
ZAMBIA Army Commander Sitali Alibuzwi has implored the Green Buffaloes women's team to work hard ahead of the Morocco 2022 Africa Women's Champions League Championship next month.
Further, Alibuzwi wants the team to win the FAZ Women's Super League and qualify for the Champions League next season.
He said this yesterday when Xtenda donated assorted kit worth K680,000 and later signed Memorandum of Understanding (MoU).