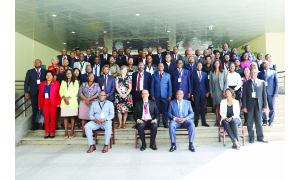 By Maimbolwa Mulikelele –
THE just ended 28th edition of the Intergovernmental Committee of Senior Officials and Experts (ICSOE) meeting of Southern Africa has unpacked the green industrialisation agenda, infrastructure development and regional integration issues that will promote sustained economic growth.
Held under the theme, "Greening Industralisation in Southern Africa through Digitalisation, Infrastructure development and regional integration: Leveraging African Continental Free Trade Area (AfCFTA) implementation", the meeting was a game changer for regional growth.
Eleven member states of the Economic Commission for Africa (ECA) came together in Maputo, Mozambique to find means of achieving quality economic development in Southern Africa.
Experts were drawn from Common Market for Eastern and Southern Africa (COMESA) Business Council, African Union- Southern African Regional office, Zambia Development Agency (ZDA) and the Policy Monitoring and Research Center (PMRC)-Zambia.
In addition, Botswana Institute for Development Policy Analysis, Development Bank of Southern Africa-South Africa and the Southern African Development Community (SADC) and United Nations Economic Commission for Africa (UNECA).
Other key stakeholders included the Ministry of Commerce, Trade and Industry from Eswatini, Lesotho, Angola and Minister of Industry and Trade of the Republic of Mozambique, Times of Zambia, and Zimbabwe Broadcasting Corporation, United Nations resident Coordinator Office-Mozambique, UNCTAD Geneva, Switzerland and United Nations Resident Coordinator in Zambia.
From the Ministry of Finance and Development planning, Botswana, Ministry of Economic Development and Planning-Angola, Ministry of Finance and National Planning-Zambia and Ministry of Finance and Economic Affairs-Malawi, among others.
The private sector was also represented by Thomro Biofuels, Zambia and Tayata Growth and Development Consulting, among others.
During the gathering, experts suggested the strengthening and stabilising regional macroeconomic environment building on the post COVID recovery drive which is crucial to achieving the sustained growth on the continent.
Key to this would be intensifying initiatives towards Sustainable Development Goals (SDGs), national and regional development initiatives, as well as promoting greening industrialisation leveraging on digitalisation, regional integration, infrastructure and the AfCFTA.
It was further suggested that member states take advantage of the upward firming and stabilisation of commodity prices on the international market, and the resultant increased revenue inflows from exports to improve productive capacities for future enhanced competitiveness by importing requisite intermediate inputs to build capacity.
Also, member states were urged to vigorously pursue green industrialisation through the implementation of pertinent policies, establishment attendant institutions and adequately supporting programmes towards greening industrialisation.
This will create an environment to facilitate the growth of regional value chains across member States, value addition and beneficiation, for the production and export of competitive products through the AfCFTA.
It was also recommended that member states ensure robust engagement with all stakeholders in the development of policies and strategies including those to support industrial development.
Other important pertinent issues recommended included the scaling up of value addition and beneficiation activities of commodities targeting specific value chains for which comparative advantage exists.
Issues on accelerating trade liberalisation across the region to facilitate the growth of cross border value chains, speed up development of infrastructure, create sustainable jobs and opportunities for the youth and women were also discussed.
On promoting greening industrialisation leveraging digitisation, regional integration and the AfCFTA, member States should develop and implement national green industrialisation strategies and policies aligned to regional frameworks and establish adequately resourced institutions to superintend over the implementation of these policies and implementation of the green initiatives.
Experts also suggested the creation, through appropriate incentives and other mechanisms, a platform for the private, through Public private Partnership (PPPs) and other strategies, to invest in transport infrastructure and energy to support value chains, green development, regional trade and industrialisation.
Introduce mechanisms and strategies to climate-proof agriculture to strengthen resilience, sustain productivity and address food insecurity, generate sustainable jobs and address inequality.
To accelerate the implementation of regionally agreed programmes on development of transport infrastructure and energy resources, including those under the SADC Infrastructure Master Plan.
Member states should support research and technology development and innovation by the private sector, innovation hubs, universities and research institutions through appropriate fiscal and other incentives and also facilitate the maturity of such innovations.
In view of this, ECA acting executive secretary Antonio Pedro says they are heavily involved in transformative initiatives that ensure value chain development such as the joint project between Zambia and Zimbabwe Green Agro-industrial Park.
Mr Pedro indicates that this has the potential to increase value addition, create jobs and contribute towards the much needed infrastructure for industrialisation in Southern Africa.
He cited the work on the battery pre-cursor initiatives, which was another transboundary project between Zambia and Democratic Republic of Congo (DRC).
Mr Pedro states that the project is expected to contribute significantly to regional and global value chain mineral beneficiation, jobs and energy transitions.
He indicates that the current conditions of enabling infrastructure like ports, interlinked highways and feeder roads were not sufficient.
And African Union Southern Africa Regional Office David Claude Pierre indicates that the launch of the AfCFTA is clearly a huge chance for Africa to boost region trade for industrial dynamism, to strengthen regional value chains to accelerate the development of infrastructure.
Commenting on the ICSOE meetings, Finance and National Planning permanent secretary for Monitoring and Evaluation Trevor Kaunda says the discussions were critical in shaping Zambia's green industrialisation agenda.
The discussions were also be key in aligning sector policies to respond favorable in line with regional and continental agenda in view of AfCFTA, which Zambia will benefit from in the long run.
Mr Kaunda says key to Zambia's development agenda is the path of green growth, which entails sustainable utilisation of natural resources for development, building resilience to negative effects of climate change through mitigation and adaptation measures.
He pointed out that during 8NDP implementation period, Government will ensure that it delivers its green development agenda priorities.
This will make the energy sector more resilient and supportive of industrialisation.
"We shall focus on investments in clean energy and infrastructure which does not endanger the country's natural environment in ways that might reduce the welfare of present and future generations," Mr Kaunda says.
The meeting interrogated a number of key issues affecting Southern Africa's industrialisation agenda that includes conceptual and analytical linkages between digitalisation, infrastructure development and regional integration to greening industrialisation.
It also addresses issues around the state of green industrialisation, digitalisation, infrastructure development in Southern Africa, the role of technology, innovation, digitalisation and infrastructure in the process of greening industrialisation policies and practice, among others.
Earlier, UNECA hosted an Ad Hoc Experts Meeting (AEGM), which member states in the Southern African were urged to strengthen policies that will help address the challenges of greening industrialisation, digitalisation and regional integration.
This will enhance the productive capacity that uses clean energy.
Other pertinent issues were on the call to implement measures that will mitigate and adapt to climate change, introduce more sustainable production and consumption patterns, harnessing the full potential of natural resources through diversification into manufacturing and value addition.
Key to this was a call to support improved waste management, including technological waste to ensure that the benefits from green industrialisation are not eroded by waste damage to the environment.
It is also noted that regional economic communities should facilitate accelerated hormonisation of greening policies to anchor the development of regional value chains and industrialisation.
In view of this, there is need to accelerate the implementation of regional infrastructure programmes to address the constraints imposed by roads, rail and energy infrastructure on productivity and trade.
On the private sector, AEGM recommends for investment that support green industrialisation including scaling up innovations to industrial and commercial applications as well collaborate across national boundaries to benefit from economies of scale in funding innovations.
The objective of the meeting was to provide a platform to critically examine the draft study report and ensure its robustness in informing policy actions towards greening industrialisation in Southern Africa through digitalisation, infrastructure development and regional integration.
Member states include Angola, Botswana, Eswatini, Lesotho, Malawi, Mauritius, Mozambique, South Africa   Namibia, Zambia and Zimbabwe.
However, UNECA Subregional Office for Southern Africa Director Eunice Kamwendo says multiple crises currently being faced by Southern African countries, though devastating, serve as a wake-up call for policy reforms that should trigger transformative shifts in the way they grow their economies for sustainable development.
This means investing more in what others call "industries Without Smoke-stacks" – which include agro-industries, tourism and the service sector that generate more jobs.
Ms Kamwendo stressed that this also meant changing the structure of whole economies – providing an opportunity for inclusive economic transformation that would respond to the challenges of today and the future.
She also expressed concern that the share of Manufacturing Value Added (MVA) to Gross Domestic Product (GDP) had remained depressed over the last five years for many countries in the region with only a few countries making significant strides.
It is concerning that mineral resource rich countries such as Angola, Botswana, Mozambique and Zambia all recording MVA of less than 10 per cent in 2021 while Mauritius, Malawi, Namibia, South Africa and Zimbabwe all recorded MVA of under 15 per cent. 
Ms Kamwendo however, attributed this state of affair to the economic structure of the subregion, which continued to be driven by high levels of commodity dependence and low levels of industrialisation, among others.
Former chair of the 27thICSOE Bureau, Malawi Rhino Mchenga indicates that the green industrialisation agenda is the path to sustainable future, stating that a future with sustainable jobs and low carbon footprint.
This, he says is the path to sustainable and inclusive growth.
Mr Mchenga indicates that African countries are committed to the path of development and they need support of sciences and technology to traverse the challenging terrain as they deepen green industrialisation, structural transformation and sustainable development.
He states that AfCFTA is the biggest game on the continent and penetrating that market required competitive products and technology to provide that edge.
And Mozambique's Ministry of Industry and Commerce, permanent secretary Jorge Jairoce indicated for a need for Africa to balance the actualisation of the green industrialisation to eliminate social environmental impact for sustained growth.
Mozambique was elected as the chair of the 28th edition of the ICSOE meetings.
The AEGM and ICSOE meeting brought together high-level government representatives from member states, private sector, academia, regional development partners and public policy thinks tanks as well as civil society organisations to discuss and share best practices on the path for African's industrialisation agenda.