Published On February 28, 2023 » 1092 Views»
Latest News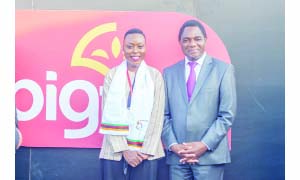 By BRIAN HATYOKA –
'LOCAL is LAKA' is a common phrase in Zambia that implies that local products and services are better.
By purchasing food and other goods or services that are produced locally, consumers help to stimulate the economy as well as create and retain valuable jobs.
When countries or individuals largely depend on imported products and services for their survival, it means that jobs cannot be created locally.
So far, President Hakainde Hichilema is supporting the production and consumption of local products and services in a quest to boost the domestic economy.
In April 2022, the Head of State said Government was ready to support the manufacturing sector to produce quality goods for both domestic and export markets.
The President said it was extremely important that the country deepens production of quality local goods by scaling up sourcing and utilisation of local raw materials as opposed to imported raw materials.
In fact the COVID-19 pandemic's effect on international trade has made buying of local products more important than ever.
Government, through the Ministry of Commerce, Trade and Industry, has come up with 'Proudly Zambian Campaign', an initiative aimed at promoting the production and consumption of local products and services.
The campaign is being rolled out in partnership with the Zambia Association of Manufacturers (ZAM).
Currently, there are 69 companies aboard the Proudly Zambian Campaign representing manufacturing and financial institutions.
Some of the enlisted companies are United Gypsum Investments Limited, Zafraan Industries Zambia Limited (Africab), Kansai Plascon Zambia Limited, Empire Brands Limited, Java Foods Limited, Roland Imperial Tobacco Company, Swiza Laboratories, Musa Biscuits Limited, Premier Safety Zambia Ltd, Yalelo Limited, Jewel of Africa Limited, Two Six Zero Brands, Fens Investment, Metal Fabricators of Zambia (ZAMEFA), Trade Kings Limited, Zambian Breweries Plc, Acacia Food and Beverages Limited, Sakiza Spinning Limited, Ascensio Investments Limited, Travium Supplies Limited, Manal Investments Limited, Strongpak Limited, Unified Chemicals Zambia Limited, Unity Packages Limited, Yatu Foods Limited, Unity Garments Limited and Sunfoods Trading Limited.
Others are Pharmanova Zambia Limited, Msimbi Dolls, Lampstands Limited, Afil Engineering Limited, Neelkanth Foods (Freshpikt), Family Juice Limited, Moringa Initiatives Limited, Estal Pride Limited, Zambia Bata Shoe Company Plc, Greenbush Farms Limited, Neon and General Signs Limited, Gourock Zambia Limited, Premuni Investments Limited, Orgachem Fertilizers, Goodfellow Finance Limited, Global Industries Limited, Ibc-Fusion Foods, among others.
Proudly Zambian Campaign coordinator, Sopani Muzumara, says the initiative was promoting quality through local products and services.
In an interview, Ms Muzumara said enlisted companies were being trained in terms of standards and packaging so that their products easily penetrate the local and international markets.
"When the products have the official logo for the Proudly Zambian Campaign, consumers are assured of high quality. On the other side, we are stimulating consumption. We need consumers to start consuming local products and services. Consumers must look out for our official logo so that they are assured of quality on the products and services," she said.
In terms of the criteria used to select companies, Ms Muzumara said the Campaign had seven sectors that it was working with including hospitality, finance and manufacturing.
For example, manufacturing firms interested to join the Campaign must have already registered with the Patents and Companies Registration Agency (PACRA).
The entities must also meet other legal obligations like tax compliance from the Zambia Revenue Authority (ZRA).
"We help firms to ensure they are certified with the Zambia Bureau of Standards (ZABS). The entities also need to have correct weights and measures as well as ensure their packaging is certified. Once the companies have all appropriate papers, we recommend them to the Ministry of Commerce for approval," Ms Muzumara said.
She said the Campaign was doing more sensitisation across the country in a quest to encourage citizens to embrace local products and services.
"We already went to Eastern Province and we are looking into going to Southern Province. On national level, we are looking at working with media houses to help spread the news. We also want to work with artistes," she said.
Last year, President Hichilema awarded 10 Proudly Zambian Campaign ambassadors including Ministers and the private sector.
Mercy Chewetu Mukupa was awarded as an ambassador for the Proudly Zambia Campaign to represent the private sector and ZAM.
Ms Mukupa, who is Chief Executive Officer and founder of Queen of Chitenge Fashion Limited as well as ZAM Trustee, said the whole idea of the initiative was to raise public awareness on products that were produced in Zambia as well as companies that were on enlisted on the Campaign.
"These firms produce products of high quality and right standards. When we are talking of the right standards, we are not just talking of the standards in Zambia but also international standards," she said.
Ms Mukupa added that the Proudly Zambia Campaign logo was certified by ZABS and the Ministry of Commerce.
"Every time you see an entity that uses our logo, it means that the particular firm has gone through screening processes that assure high quality with right standards. Even if the products are exported to other nations outside Zambia, we know that those products are safe. For example, water that is certified is safe for drinking," she said.
Ms Mukupa, who is also chairperson of the Zambia Leather Industry Association, said the initiative was encouraging Zambians to buy their own local products
She said there was need to give priority to products that were made from locally soured materials to boost the domestic economy.
"For Zambia to grow, we need to grow the domestic economy. If we keep importing, we will be keeping money outside and how will the economy grow? If you buy locally, we will be creating jobs, paying taxes and contributing to the Gross Domestic Product (GDP) of Zambia. More money will be generated to assist in improving roads, hospitals and other projects," she said.
Ms Mukupa urged buyers, especially the big firms and Government, to give priority to locally soured materials.
She was happy that some of the supermarkets were already partners in the Campaign especially in agriculture sector.
"We want supermarkets to have more than 90 per cent of locally produced products. Most of them are stocking locally made products," she said.
Some of the setbacks in the successful implementation of the Proudly Zambian Campaign have been poor quality and packaging.
This is why firms under this Campaign undergo training so that their products are certified.
Ms Mukupa's vision, as an Ambassador for Proudly Zambian Campaign, is to see more Zambians proudly wearing and eating Zambian manufactured products and services.
She wants children to give priority to locally made products as they visit selling outlets in the country.
"In Rwanda, it was in disaster when they had genocide but people have realised that for their country to grow, they invest in their locally made products. We all have to be involved. I am happy the Ministry of Tourism is also on this campaign. We expect beds and clothes in hotels and lodges to be Zambian," she said.
It is only hoped that more Zambian firms will enlist to the Proudly Zambian Campaign in a bid to assure the public of quality.