Published On March 1, 2023 » 658 Views»
Features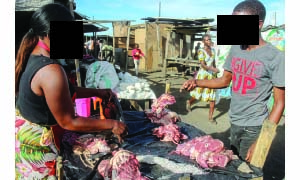 By PASSY HAACHIZO –
THE Kabwe Municipal Council (KMC) public health department has intensified the inspection of food as it continues closing the gates of a possible outbreak of cholera in the district.
Kabwe being the transit and the capital district for Central Province has no option but to work hard to ensure cases of cholera are not allowed in the area as any outbreak would easily spread to other parts of the country.
Cholera is an acute diarrheal infection caused by ingestion of food or water contaminated with the bacterium Vibrio cholerae.
It remains a global threat to public health and an indicator of inequity and lack of social development.
Most of those infected will have no or mild symptoms and can be successfully treated with oral rehydration solution.
The World Health Organisation (WHO) indicates that cholera epidemics typically occur during the rainy season in Zambia, starting in October and ending in May to June the following year, with the peak being reached between January and March.
The major outbreaks of cholera in the country occurred in 1991, 1993, 1999, 2004, 2009, and 2010, with more recently in 2016.
This year's epidemic count touches on 21 cases registered from January 21st to 30th, this year in Vubwi District of Eastern Province.
On January 27, there were 13 suspected cases of cholera of which six were confirmed, 12 admitted, seven discharged and one death was recorded.
To avert any possible outbreak the local authority in Kabwe had been making inventive measures to stop the selling of foodstuffs such as meat and offals in undesignated places.
KMC director of public health Christopher Mtonga said, over the past two weeks the institution mounted interventions which included education, promotion, and enforcement activities.
Mr Mtonga said the past two weeks over 20 kgs of meat was confiscated and destroyed by the local authority for being on the street against the laws of Zambia.
He said the local authority also encouraged most places to have adequate sanitary conditions with a target to get rid of shabbiness which turned to be hotspots for cholera.
"Anyone found wanting, we will ensure that their product is confiscated and destroyed, while the culprits will be prosecuted in the fast track court which was recently opened," Mr Mtonga said.
A restaurant owner at Green Market in Kabwe only identified as Bana Iness said the idea to stop the meat sellers was not good as it was the only source of survival for the sellers in the area.
She said it was very difficult for the residents of Kabwe, especially the street hawkers to survive if they were not accorded the chance to do the business of selling foodstuffs on the street.
"The only thing is that selling meat and other foodstuffs on the street is the only way those who sell such foods can survive, so the Council should just bear with them," she said.
Margret Buumba, a vendor trading in fresh groundnuts said the idea to ban the selling of meat and other foods on the street was a good one.
Ms Buumba however said it would be hard for the food handlers to make it if they were stopped from selling the meat and other foodstuffs.
She appealed to the local authority to consider finding a suitable place to trade from as this would help them continue surviving.
"We need the food sellers to be helped so that their families cannot suffer in an instance where their business stops," Ms Buumba said.
However, human rights activist Charles Moono urged traders to ensure the right to health was promoted at all levels.
Mr Moono, who is also a Master of Laws (LLM) student at Mulungushi University said as much as the economy demanded that people did various businesses such as selling meat, it was important that the lives of others were too protected by avoiding selling such foodstuffs in undesignated places such as the streets.
He said the idea by the local authority public health department to monitor the selling of foodstuffs in the district was timely.
Mr Moono said if cholera was to break out, it would not choose between the sellers and the buyers, hence the need to be cautious in whatever, individuals were doing to safeguard lives.
"Life comes first, so if the traders decide not to adhere to the regulations then it means they are stepping on human rights, especially the right to life as their actions would motivate the outbreak
A global strategy on cholera control, Ending Cholera: a global roadmap to 2030, with a target to reduce cholera deaths by 90 percent was launched in 2017.
Central Province public health specialist Isaac Banda noted the need to fight cholera together with promoting the vaccination of children against polio.
Dr Banda said it was imperative that communities around the province used clean and safe water as well as consider washing foods before consumption.
Researchers have estimated that each year there are 1.3 to 4.0 million cases of cholera, and 21 000 to 143 000 deaths worldwide due to cholera.
Cholera is an extremely virulent disease that can cause severe acute watery diarrhea and it takes between 12 hours and five days for a person to show symptoms after ingesting contaminated food or water.
Cholera affects both children and adults and can kill within hours if untreated and the disease that can kill within hours if left untreated.
Provision of safe water and sanitation is critical to prevent and control the transmission of cholera and other waterborne diseases.
Health experts say that severe cases of cholera need rapid treatment with intravenous fluids and antibiotics.
Oral cholera vaccines should be used in conjunction with improvements in water and sanitation to control cholera outbreaks and for prevention in areas known to be high risk for cholera.
It is therefore, important that the public adhere to the health directives of maintaining hygiene and stop selling foodstuffs in undesignated places as the first step to prevent cholera from spreading to all parts of the country.