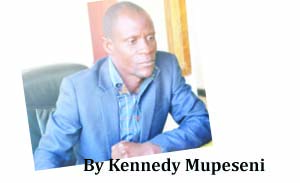 THERE is no doubt that Kasumbalesa border post is a major regional and international export facilitation centre that has remained critical in promoting trade regional blocks.
However, the slow pace at which trucks carrying cargo to the Democratic Republic of Congo (DRC) are cleared leaves much to be desired.
Two weeks ago, over 2,000 trucks destined for the DRC via Kasumbalesa marooned between Copperbelt's Chambishi area and Kasumbalesa causing a traffic and health nightmare.
This called for the attention of President Hakainde Hichilema who called for an urgent regional approach to resolving 'unacceptable' truck congestion on the Kasumbalesa stretch.
"This is unacceptable, uncalled for, I am engaging my counterpart in the DRC Felix Tshisekedi very soon so that we put a stop to this, goods need to start flowing without hindrances," said President Hichilema who addressed 'stranded' truck drivers in Chingola about two weeks ago.
He promises to reach out to his DRC counterpart and other regional leaders to find a permanent solution to the issue of traffic congestion as he thanks truck drivers for being patient with his Government.
He directed Copperbelt Minister Elisha Matambo to ensure that social amenities were provided as a temporary measure.
Southern Africa Development Community Drivers Association president Eugene Ndhlovu requests for a lasting solution to ensure seamless passage of trucks.
"Truckers are spending a lot of days/nights on the road, exposing them to various health and security hazards, we hope your Government will work with regional leaders especially DRC President Félix Tshisekedi in resolving this problem which started as result of upgraded infrastructure on major border posts such as Chirundu and Kazungula among others," Mr Ndhlovu says.
Zambia Revenue Authority (ZRA) and other stakeholders came up with a temporary measure to mitigate the short-term challenge for the truckers.
Measures include mending of potholes from Konkola checkpoint to the entry gate, providing water and mobile toilets, reviewing the multiple clearing points as well as enforcing traffic protocols as medium to long-term measures of decongesting the Kasumbalesa stretch are worked on.
The stakeholders committed themselves to address the lack of water for the drivers by supplying a water bowser for supply of water which has been implemented.
Recently, the Zambian and Congolese authorities led by Zambia's Minister of Commerce, Trade and Industry Chipoka Mulenga and his DRC counterpart Jean Lucien Busa Tingba held a meeting at Kasumbalesa border post to find a lasting solution to the cargo facilitation challenge.
After the meeting, the two countries resolved to allow for 24-hour border operations at Kasumbalesa, Sakania, Mokambo and Kipushi in a week's time.
The Zambian government on the other hand committed in a communiqué to start upgrading facilities leading to key border posts after the rainy season as well as relook at night ban on cargo movement statutory instruments.
This will include the Chingola to Kasumbalesa road, the Solwezi to Kipushi road, roads to Sakania and Mokambo, the truck park at Kasumbalesa and border infrastructure for Sakania, Mokambo and Kipushi border posts.
"All border agencies for both countries should be in place and procedures to allow for 24-hour border operations at Kasumbalesa, Sakania, Mokambo and Kipushi in accordance with internal procedures. This was to be implemented in a week from the day of the meeting," partly reads the communiqué.
Both parties agreed to authorise the movement of all types of goods through Sakania, Mokambo and Kipushi borders.
Mr Mulenga says Zambia is reconsidering implementation of the night-time restrictions on movement of commercial cargo.
On the other hand, the DRC agreed to use the new buildings at the Kasumbalesa border for the efficient processing of documents which will allow for goods cleared at Sakania and Mokambo to proceed directly to their destinations.
"The DRC committed to upgrade the parking at Wisky and to construct a ring road within the DRC to facilitate the movement of fast-track goods. The two countries agreed to, in 12 months, the operationalisation of a one stop border post, for all borders adjoining the two states, starting with Kasumbalesa," Mr Busa Tingba says.
Kasumbalesa is believed to be facilitating trade to more than 10,000 Small and Medium Enterprises (SMEs) who export via this popular border post on a daily basis.
To this effect, Mr Mulenga says plans to come up with SME-led export zones in border areas have reached an advanced stage.
A framework regarding the export zones is almost done and remaining with fine touches before the implementation.
The intention behind the concept is to help SMEs grow through handling of wholesale and retail business on behalf of manufacturers, thereby spreading the benefits.
"We have heard complaints from SMEs that manufacturers are opening outlets at the border areas like Kasumbalesa, thus pushing them out of business, but let me assure them that the Government is working on a framework that will establish export zones," Mr Mulenga says.
He says border posts like Kasumbalesa are strategic.
Mr Mulenga says Kasumbalesa border post caters for Central and Eastern Africa and is the largest export border facility which SMEs should take advantage of.
"As Government, we are doing our part in encouraging exports of goods to other neighbouring countries through the export zones framework and we expect SMEs to take advantage of that to forge partnerships with manufacturers," he said.
The centrality of Zambia should make it an export-oriented country with eight neighbouring states.
He says this is why the Government has prioritised border infrastructure upgrade and turned most of the busiest entry and exit points to non-stop border facilities operating 24 hours a day.
The Government also wants manufacturers at whatever levels to produce export-oriented products that meet regional and international standards.
It is hoped that the agreed upon undertakings will be implemented to ensure swift clearing of cargo thereby facilitating regional trade and decongest Zambia's highways.