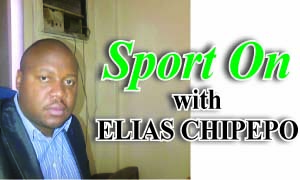 Sport On with ELIAS CHIPEPO –
IT is sad that some elements want to dent the various strides that women's football in Zambia continues to score.
While the national team is performing well at regional and continental level with the global stage still being tested, reports of indiscipline in camp and players with officials beating up match officials are worrying.
The latest incident involving Bauleni United Sports Academy (BUSA) is very unfortunate as women's football continues to grow and attract the needed sponsorship including going live on television.
There has been an undying cry by FAZ on the need for the corporate world to come on board and sponsor women's football, especially the various leagues that have been formed from the national league to the provincial leagues.
However, this is not the first time that such acts have been recorded in the women's game after Nkana Queens had six players banned for about one and half seasons for unsportsman behaviour.
In their case, the Nkana divas beat up a referee during the Week Nine fixture against Zambian Institute for Sustainable Development (ZISD) in a match played at Lusaka's Independence Stadium in 2021.
Thus strong action is expected to be taken against BUSA general secretary Frank Kangwa and three players namely Gertrude Mfumba, Sheila Namuzungu and Grace Phiri for their role in the chaos that ensued when the referee and a media officer were attacked during the FAZ Women Super League Week 31 match against Green Eagles.
Of course, the club has a right to appeal but in essence, hooliganism has no place in football.
As the women's game continues to grow and makes huge strides, such acts should be weeded from the game because potential sponsors are closely watching these developments and would not want to be associated with such acts of thuggery and savagery.
In as much as referees err when they carry out their duties, the onus is on clubs to follow the right channels with their complaints unlike taking the law into their own hands.
The pictures that circulated after the incident at the BUSA game were barbaric scenes that destroy the good of the game.
There is an urgent need to curb these growing ugly incidences of hooliganism that are fast infecting our once beautiful game before it is too late.
This culture in the women's game must be dealt with in a draconian manner with probably a life ban to send a strong message violence in the game will earn you a short-term sentence and one will be back in no time to continue where they left off.
Such a strong message is needed as a deterrent to show progress from jungle law in the women's football league which is supposed to be attracting not only sponsors but a large following owing to the successes of the Copper Queens.
Meanwhile, what happened in South Korea is again one of those regrettable incidents and it is hoped FAZ carried out thorough investigations on what exactly happened and which other players could have been involved along with Xiomala Mapepa.
I doubt she was alone in what transpired which led to her exclusion from the team.
We should embrace the spirit of collective responsibility which is a mark of good leadership.
Overall, it is encouraging that FAZ is hosting a consultative meeting to converse on ways of sustaining the women's football revolution that our game is witnessing today.
Yes, our game might still be far from the finished article that everyone desires to see.
But such meetings are important on how to improve on the steps made so far such as the Tokyo 2020 Olympic Games and FIFA World Cup qualifications, winning bronze at the Africa Cup including lifting the COSAFA title.