YES, a lot has been said and yet more remains to be done about the outcome of last week's Second Summit and Russia–Africa Economic and Humanitarian Forum held in Russia.
Before going into statistics, it is important to note that the summit brought out valuable points over what the leaders from Africa and Russia want the future of their relationship to be like.
If pronouncements from the two grouping are anything to go by, the leaders want what has now become a clichés and yet still expressive, a win-win situation in their economic and diplomatic relations.
Now, this summit held in the city unofficially known as the Russia cultural capital, St Petersburg, marked the second time that events of such a magnitude with a focus on a wide range of relations between Russia and African countries have been held.
The host city occupies the centre of that status because of its cultural, historical, and architectural landmarks, which is a story for another day.
The Summit consisted of two plenary sessions.
Russian President Vladimir Putin, African Union chairperson and Union of the Comoros President, Azali Assoumani, African Union Commission chairperson, Moussa Faki Mahamat, and the heads of State from African countries spoke during the first part of the Summit.
Speaking first, President Putin set the tone of the gathering as he pledged Russia's desire to deepen its relations with African countries in terms of trade, investments and other economic endeavours.
In his presentation, names of two of Russia's main products desired by African countries, came up as if to whet their appetites.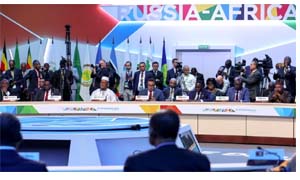 Indeed, in what some Russia's critics describe as 'dangling a carrot,' Mr Putin reminded the audience that Russia was a world producer of both grains (wheat) and fertilisers.
"Realising the importance of an uninterrupted food supply for the socioeconomic development and political stability of African states, we are increasing agricultural supplies to Africa.
"Thus, in 2022, 11.5 million tonnes of grain were delivered to African countries, and in the first six months of this year alone, we supplied almost 10 million tonnes," he says.
He did not stop at that but announced Russia's plans to deliver to six African countries between 25,000 and 50,000 tonnes of grain each at free of charge.
While the promise of the free grain could not be a long-term solution to Africa's woes, his sentiments on fertiliser and technological knowhow is much more beneficial, given the critical role inputs play in agro-production in Africa.
President Putin's pledge to help Africa become the world's food basket by improving the agricultural sector should be much appropriate than free food, in the 21st Century.
Pledging to support African countries to be fully food secure by growing the agriculture sector, he says Russia is available to help them in that crusade.
According to Mr Putin, Russian wants to work with African countries to help transform the continent into a food basket of the world in the coming few years because it has the potential.
This is through the provision of fertiliser, expertise acquired over the years as well as the technology and relevant equipment to mechanise the African agriculture sector and improve production.
This is quite critical given that, for instance, Zambia's productivity level is currently so low, as low as two-tonnes of maize per hectare for instance.
Generally, during the discussions, the delegates declared their commitment to jointly building a new, fairer multipolar architecture of the world order based on the sovereign equality of States and mutually beneficial cooperation.
This led to the adoption of four declarations including the Declaration of the Second Russia–Africa Summit.
The meeting also adopted the Action Plan of the Russia–Africa Partnership Forum for 2023–2026 which time permitting we will one look at, as well as the signing of two documents with leading African integration associations.
The business programme of the Russia– Africa Economic and Humanitarian Forum featured discussions on how to unleash the potential of Russian-African cooperation.
According to Rescongress Foundation, the organisers of the summit, more than 9,000 participants and media representatives from Russia and 104 foreign States and territories took part in the events this year.
The participants included about 1,000 representatives of foreign businesses, more than 2,000 representatives of Russian businesses, roughly 1,100 representatives of foreign official delegations, and more than 750 Russian delegations.
This is according to Mr Putin's adviser and organising committee executive secretary, Anton Kobyakov.
A total of 59 panel sessions were held with 457 speakers in four main areas: 'The New Global Economy', 'Cooperation in Science and Technology', 'The Humanitarian and Social Sphere: Working Together for a New Quality of Life', and 'Integrated Security and Sovereign Development'.
Further, the forum resulted in the signing of 161 agreements that do not constitute commercial secrets out of which 146 agreements were with foreign organisations and authorities.
For the media, a total of 2,031 representatives were accredited for the events out who 1,383 were Russians, 456 Africans and 192 media outlets from other countries.
Applications were received from 55 countries.
Further, more than 50 exhibition stands on key areas of Russian-African cooperation were presented at the forum.
They included for 23 African States which presented their achievements.
We may dedicate more articles on the summit especially on Zambia's participation at the summit.
For comments call: WhatsApp only 0955 431442, 0977 246099, or e-mail: jmuyanwa@gmail. com.