Published On August 22, 2023 » 870 Views»
Features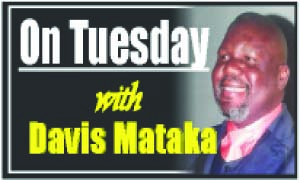 THIS week, I feature an article by an industrialisation & regional integration expert SHADRECK SAILI who is exploring Zambia's aspirations as the 15th BRICS Summit commenced yesterday.
AS the 15th BRICS Summit commences in South Africa, President Hakainde Hichilema of Zambia is poised for a purposeful journey. His focus is anticipated to centre around bolstering economic connections, unearthing fresh investment prospects, and nurturing diplomatic ties with BRICS member nations.
Zambia's active participation in this endeavour holds immense significance. Scheduled from August 22nd to 24th, 2023, the summit revolves around the themes of "The Role of BRICS in Africa" and "Expanding Membership." Within
this dynamic context, Zambia's objectives are expected to be crystal
clear – engaging in constructive dialogues, exploring novel economic potentials, and reinforcing its global diplomatic standing.
The echoes of the BRICS summit have the
potential to reshape Zambia's economic landscape, particularly in the aftermath of the Russia-Ukraine conflict.
The combined economic might of BRICS member countries offers Zambia the prospect of accessing diverse markets and investment sources. This could pave the way for economic diversification and stability. Conversations at the summit may result in pivotal trade agreements, investment commitments, and cooperative ventures that could accelerate Zambia's growth and enhance its overall resilience.
Zambia's ongoing trade and investment
engagements with individual BRICS members – China, Russia, Brazil, India, and South Africa – underscore the array of exciting opportunities. Each nation brings distinct strengths, and Zambia stands to gain significantly from stronger partnerships. Be it China's investment in infrastructure, Brazil's agricultural expertise, India's technological prowess, Russia's resources, or South Africa's regional influence – these connections hold substantial value for Zambia.
While Zambia's relationships with non- BRICS nations are of utmost importance, the BRICS summit provides a platform to amplify existing partnerships and explore new horizons. A more robust collaboration with BRICS nations could potentially translate into expanded markets, increased investment inflows, and the establishment of influential strategic alliances.
Zambia's participation in the African Continental Free Trade Area (AfCFTA), coupled with its involvement in regional bodies such as the Southern African Development Community (SADC) and the Common Market for Eastern and Southern Africa (COMESA), aligns well with its engagement in the BRICS summit. This balanced approach resonates with Zambia's objectives of regional integration and global partnerships.
The pivotal question emerges: Should Zambia formally become a BRICS member? This decision is intricate and requires thorough consideration, as membership could usher in deeper economic integration, heightened investment opportunities, and amplified geopolitical influence. Nevertheless, this choice should be made with careful evaluation, weighing alignment with BRICS' goals alongside potential drawbacks.
Zambia's strategic approach to BRICS should be astute and purposeful. It involves forging mutually beneficial economic partnerships, fostering investments, and cultivating robust diplomatic connections. Against the backdrop of the Russia-Ukraine conflict and the post-covid19 resurgence, Zambia's strategy should be to leverage BRICS alliances to address challenges, invigorate its economy, and chart a course towards sustained growth.
Amidst these discussions, the possibility of Middle Eastern states – critical sources of Zambia's fuel – joining BRICS could reshape energy dynamics and pave the way for expanded economic cooperation.
As the 15th BRICS Summit unfolds, the country's participation symbolizes its commitment to seizing global opportunities and fostering essential partnerships. Zambian citizens' aspirations encompass economic advancement, regional unity, and strategic collaborations. Amid intricate global dynamics, Zambia's diplomatic acumen will illuminate its path, steering economic prospects, reinforcing global influence, and contributing significantly to the global discourse during this pivotal summit.