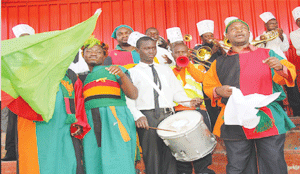 By MOSES CHIMFWEMBE-
SOCCER fans bodies have backed the electronic ticketing system to be introduced by the Football Association of Zambia (FAZ).
Chipolopolo Soccer Fans Association (CSFA) chairperson Yotam Mwanza said the introduction of electronic ticketing system during games has been long overdue.
FAZ treasurer Kelvin Mutafu announced earlier in the week that the association intends to put in place an electronic ticketing system.
Mwanza said in an interview yesterday that the move would be a relief to soccer fans who have suffered enough because the current system of purchasing tickets was tedious.
He said selling tickets electronically would be the best answer to mitigating the challenges that fans were facing in acquiring tickets.
"We are very happy that FAZ has recognised the difficulties that we face when buying tickets and as fans, we want to commend them for this initiative because we feel it's a step in the right direction.
It is unfortunate that some fans have been shot and injured in an effort to buy tickets for the game. We want this system to be implemented soon so that we reduce on incidents of stampedes when buying tickets," he said.
And Zambia Sports Fans Association (ZASPOFA) strongman Peter Makembo said the electronic ticketing system had come at a right time when Zambia is bidding to host the 2019 Africa Cup of Nations (AFCON).
Makembo said the move will boost Zambia's chances of winning the 2019 AFCON bid because it was one of the requirements for hosting the continental soccer piece.
He said the initiative was a good intervention measure to reduce fraudulent acts that engulf the sale of tickets during the international games.
"We want to thank FAZ for this news, you know I have moved in so many countries on the continent and most of them have embraced this ticketing system. That's what we have been waiting for and we feel hurdles we go through to buy tickets will be a thing of the past," Makembo said.