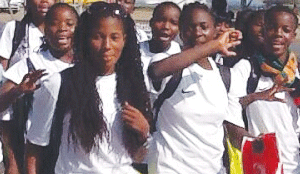 By ELIAS CHIPEPO-
A confident Zambia Under-17 women team arrived in Costa Rica with head coach Albert Kachinga upbeat about the team's chances of winning the 2014 FIFA World Cup finals.
Kachinga said expectations were high for the Zambian team to go far in the competition despite only making a maiden appearance at the tournament that kicks off this Saturday.
According to a Costa Rica online publication, Nacion, the team arrived at Juan Santamaria Airport on Tuesday night around 20:30 hours (which was about 04:30 hours Zambian time yesterday).
Kachinga told journalists that besieged the Zambian team upon arrival at the Airport that it was every coach's dream to go far in the competition and that he was no exception.
"We are playing in the competition for the first time and our goals are high and we are here to see if we can meet them. It is the dream of every coach to come for a tournament and win but we first have to get past the first phase before we can start talking about winning the title," he said.
And Nacion reported that Zambia were capable of producing an upset despite being the weaker side on paper in Group A that has the hosts, Italy and Venezuela.
It said that many of the African teams that compete at such tournaments usually have high and robust players unlike the unknown Zambian side.
Meanwhile, Football Association of Zambia (FAZ) vice president Boniface Mwamelo has expressed happiness that the contingent arrived safely in San Jose from San Francisco with the team declared injury free.
Mwamelo said the team that had a fruitful 12-day training camp in the United States of America (USA) has been accommodated at the Doubletree Hotel.
He said the training camp would greatly help the girls as they prepare for Saturday's opening match against Italy.
"I am happy that the girls came through unscratched from the 12-day training camp and morale is high in camp as everyone is looking forward to the opening game against Italy. We know they finished third at the European championships but they are still beatable," he said.
Mwamelo said the coaching bench has done its best to ensure that the team is well prepared for the tournament.
Sports Minister Chishimba Kambwili and some officials from the ministry yesterday left for Costa Rica and are expected to link up with the squad today.
Zambia kicks off her campaign on March 15 at the National Stadium in San Jose with a match against Italy, match that will come minutes after the hosts play Venezuela at the same venue.
Up next for the team will be Venezuela on March 18 before wrapping up Group A fixtures against Costa Rica on March 22 at the Ricard Saprissa Ayma Stadium.