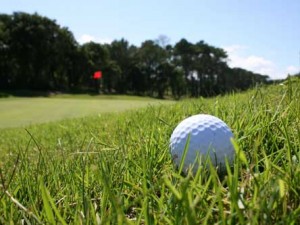 By FELIX MALUNGA-
AFTER several months of intense preparations, Nkana Golf Club has finally hit the $1 million (about K6.3 million) mark to stage the prestigious Mopani Copper Mines 2014 Zambia Open Championship in Kitwe next week.
With the prize money of $250,000 (more than K1.5 million), the Mopani Zambia Open, scheduled for May 15-18, will be richest ever in local golf history and in Africa outside South Africa.
Adding flavour to the event, the four vehicles staked as prizes for holes-in-one will be placed on the respective short four holes on the Nkana course next Monday.
Zambia Open Organising Committee (ZOOC) sponsorship manager, Hang'omba Hang'omba said the budget for the cosmopolitan championship was now 100 per cent done.
Hang'omba said in Kitwe yesterday that with the budget safely secured, ZOOC was tying up a few loose ends to ensure the tournament being defended by Brazilian, Adilson Da Silva, was a resounding success.
He thanked title sponsors Mopani Copper Mines and other co-sponsors who came on board to support the event which was heading to Kitwe for the first time.
Hang'omba said some of the works being concluded were just a few final touches like painting to the refurbished club house.
He also said all the hole-in-one vehicles would be on site on May 12, the eve of the first Pro-Am to be co-sponsored by Airtel and Samsung.
Accurate shooters, who will sink holes-in-one on the third, seventh, 11th and 15th during the Zambia Open proper are guaranteed of driving the vehicles away from the golf course.
Southern Cross Motors have sponsored a Jeep Cherokee with Toyota Zambia staking their 2014 model Toyota Corolla while Vehicle Centre and Yeti Motors have contributed a Ford Ranger and Hyundai IX 35, respectively.
The second Pro-Am on May 14 will be co-sponsored by Zamtel and Redpath Mining.
And a Zambezi Paper Mills team on Sunday scooped the 2014 Rotary Club of Ndola-Mukuba fundraising golf tournament in Ndola.
The team consisting of Charles Chibale, Raju Sharma, Carol Day and Sandra McCann posted 108 points after 18 holes to emerge winners, beating a Matty Investments team by three points.
Former ZGU president, Alex Mashano, Ndola Golf Club captain Humphrey Mutambo, John Kabuka and William Sichilima constituted the Matty Investments squad.
In the individual stableford, Jason Taylor needed a four-way count back to emerge champion following a 36 points tie with three others. Sports Council of Zambia (SCZ) vice-chairperson, Emmanuel Katebe was second with Jean Coppez taking the third place while Piyush Patel finished fourth after count back.
Actor Kaambwa got the fifth position on 34 points, one better than former ZGU president, Percy Ng'andwe, who despite being a veteran golfer, is still a force to reckon with on the course.
Former Zambia Squash Association president, Phil Munsaka grabbed the seventh place on 32 points.
Rotary Club of Ndola-Mukuba president, Victor Chimuka said the aim of the tournament was to raise about K35, 000 to train traditional birth attendants, now called the Safe Motherhood Action Group.
Meanwhile, Football Association of Zambia committee member, Pivoty Simwanza carded 34 points to win the New Apostolic Church fundraising golf tournament in Ndola.