Published On January 4, 2014 » 2843 Views»
Features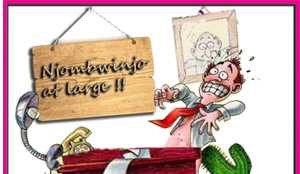 AH! We've picked a queer rumour in the hood, I tell you. It's said that Mrs Kadenene across the road is so hostile to maids (hers and those of neighbours) she even refused a simple greeting by one such polite and humble creature by retorting "Nshilefwaya ukumposha mwaumfwa? Nshifwaya ichibeleshi na ba kaboyi ine (don't greet me, do you hear? I don't want familiarity with house servants)!"
But lo and behold, goes the rumour, the man of the house, Mzee Kadenene was on the verge of throttling the gardener, Mercedes Daka after returning unexpectedly from the office only to find him in the act, truly and thoroughly servicing the very woman who doesn't want "ichibeleshi na ba kaboi"!
Call it bad timing! When you are reaching the high skies in bliss, even when you can tell danger is knocking on the door, there is very little you can do by way of curtailing the stolen moment without still being known to have been doing the unthinkable. So it was with Mrs Kadenene and Mercedes!
The poor husband had the misfortune of watching live the very, very last moments of it all (the hottest, the uncontrollable) and he couldn't remember a day in the recent past when his wife looked so thoroughly beaten with joy. Her beaming face… (hah, look at that girl, I tell you!).
When he got over the shock of the most unimaginable scene ever in his life, man did he start tossing them hard punches on the poor naked gardener! He wasn't the strongest man, Mzee Kadenene, but the sight he had just seen put extra-extra energy in him he could have knocked out several bull hippopotamuses with the punches!
When he had evidently sapped all energy out of Mercedes, who unfortunately had already lost more than enough energy trying to please (or sort out) his mistress anyway, Mzee Kadenene stuck his fingers into Mercedes' neck (at the throat) for holy measure, meaning to not for anything let go till that self-styled bastard of a gardener stroke laundry man could breathe no more to again donate sexual pleasures to other people's wives, least of them his, (Kadenene's).
But what chicanery, this Mrs Kadenene, I tell you! Why not say "Since I know that house servants can go to bed with the wives or husbands of their masters/mistresses (and that when they do, they do a pretty thorough job), and because it's okay if such servant goes to bed with me (as I know I am doing with Mercedes Daka) while I would hate it if my husband were to do the same with a maid, I don't want maids in the neighbourhood!" Why pretend that there is something nasty about ALL maids you can't even accept to be greeted by their species?! This
woman, I tell you… No, no no!
The local folks in our close in Avondale have stopped calling the poor man 'Mr Kadenene' or 'Mzee' as he apparently appears to enjoy being referred to. They are calling him 'Mr Kadee' (pronounced more like Kadiii). If there is anything I pray for, even in my sinful nature, it is that at no time should I find my wife doing absolutely unthinkable things with another man. Look, never mind that I will be so pi…d off I will most likely mangle the man into a heap of unrecognisable bones and flesh, but at what cost to our reputation as a couple? Who wants
everyone in the hood talking about the infidelity of their wife?
If you have pompous and bombastic wives like Mzee Kadee seems to have, who have made themselves most unpopular because of their pride, people have a feast of a time teasing, mocking and laughing at them.
If you have modest angelic creatures like my Amake Pachikani, who everyone knows ends almost every sentence with 'Ameen, Ameen' they will still have a feast at our expense because it will be her Christianity they will be poking fun at. You can't afford to start bedding houseboys and maids and disgracing your spouse the way this Mrs Kadee has done here.
Mrs Vainesi Mtolilo, who has not been heard for a while in these parts is suddenly full of vigour reporting tales about what happened as if she was right in the Kadenene bedroom when things happened. Who said many people love in themselves what they hate in others! Isn't this the very Mrs Vainesi Mtolilo who is also believed to have almost sent her husband insane or dead or both by being discovered in a queer adulterous situation with a blackened charcoal vendor?
Now she is talking and laughing at Mrs Kadee, creepers! From her we have heard (through our window), and I believe she was shouting the story for our benefit knowing we were home all New Year's day caressing each other's delicate parts while the boys kept exploding noisy fireworks in the street, we have heard pretty strange tales, I tell you. We heard that it was by the sheer acrobatic prowess of Mrs Kadee that her husband didn't ultimately cut off the entire family of vital statics from Mercedes' sprawled and limp body.
Mrs Vainesi Mtolilo says Mzee Kadee had a full arsenal of sharp, dangerous weapons with which he could have severed the whole of Mercedes' sex life for good unless Dr Francis Manda at UTH were to perform some surgical magic by reconstructing those crucial instruments back onto the body!
Seeing her block his attempts at using a garden cropper to crop off Mercedes' valuables, Mzee Kadee seemed to notice his wife, the partner in sin, for the first time! He pulled at the towel which she had wrapped around her waist as her husband pummelled her sex partner, leaving her bare again and started to slap her all over her body. You know how painful a slap can be on bare skin?
Wow! Ask someone to do it on you and you will quickly terminate the experiment! He planted so many severely hard slaps on her buttocks, on her back, on her face till she screamed and started to search for an exit out of the bedroom.
The man blocked her, locked the door, removed the key and threw it on top of the wardrobe before resuming his most important assignment: Beating.
Nobody is telling us how it all ended. But anyway, with Mrs Vainesi Mtolio in full voice again, we will hear about it and I will recount it to you. I just suspect Mercedes Daka is now without employment, if he didn't also spend New Year in hospital. Check that guy, guys. He can die, if he indeed received the reported thorough beating. A jealous man harbours such anger he can beat you to death, even if such death might occur days later! Take that Mercedes thing to hospital.
But… come to think of it… the beating serves him right, the bastard.
How can we have a vulture in our neighbourhood (so close to my precious Amake) planting adulterous thoughts among our women? He could be one of those veritable idiots who have charms that make it impossible for women to reject their foolish advances! Well done, Mzee Kadenene. If he pleads for his job, tell him to get lost.
And beat him up again. Make sure you break his nose, his phone and the sim card too. He might have stored the phone numbers of all our wives in the neighbourhood and can start accessing them one by one in some nondescript township rest houses when he has recovered. I can't trust men who bed other people's wives, especially if they are of such low status like laundry or garden boys. Yes, well done Kadee.
&&&&&
You need to congratulate me. For the first time in I-don't-know-how-many years, I have managed to spend both Christmas and New Year at home, more sober than Bishop Wataye, the Catholic priest up there where I don't want to mention who got so zozzled he was seen dancing (without his robes of course) as if the dance was a password for a holy meeting with Mary the mother of Christ.
I hear the Bishop sang along to Petersen Zaga Ze's latest hit 'Kumanda Kuli Boring'! Heard that song? And the youthful girls in his and other anonymous priests' company (incognito) that night just loved to see their Bishop opening up (in the literal sense)! I wonder… oh, they must have done night vigil on Christmas day! So yes, the Bishop drank and danced.
And you think Njombwinjo is a nut! All I ever do wrong is, like the priests did, drink and dance, and if the situation gets out of hand, also go off with strange women and start making babies! I believe the priests went off and let themselves go. Don't argue, you, I have accommodated priests in my house before.
When I was young in one of the rural towns, my house was the secret hide-out for two Fathers whenever they could no longer hold their celibacy in check and could manage to con a few teenage girls from their congregation.
The priests would come even an hour early, have lunch with me and in the afternoon, when everybody would have forgotten that some priests had entered Njombwinjo's house, two kids,
tu ma girls, would come to offer them themselves in holy sacrifice to Father Chakuti-chakuti and Brother Chite-ici! I was home at New Year, not the Bishop! Mixture Njombwinjo is on Facebook.