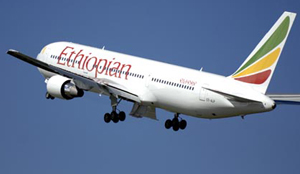 By GETHSEMANE MWIZABI-
ETHIOPIAN Airlines has entered into a code share agreement with United Airlines, effective August 30 2014.
According to a statement from the airline, the new code share agreement between the two Star Alliance member airlines covers the Addis Ababa–Washington, DC trunk route, as well as points in Africa and the US.
With this codeshare agreement, travellers between the US and Africa will be able to enjoy unmatched and seamless connectivity options.
Ethiopian Airlines Group CEO, Tewolde Gebremariam, said: "We are very pleased to start codeshare flights with fellow Star Alliance member, United Airlines.
"This agreement will enable our two carriers to tap into new market opportunities and be competitive in the fast-growing Africa-US travel market. It will also give a wider choice of connectivity options to our customers travelling between Africa and the US."
Ethiopian Airline is a global Pan-African carrier currently serving 82 international destinations across five continents with more than 200 daily flights and using the latest technology aircraft, such as the B777s and B787s.
United Airlines and United Express operate an average of more than 5,200 flights a day to 374 airports across six continents.