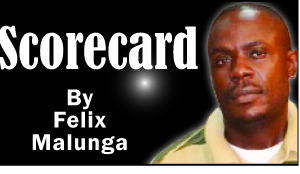 CHIPOLOPOLO interim coach, Honour Janza stole the limelight last week when he sent packing one Zesco United and four Power Dynamos players from camp for late coming.
It was a bald decision by Janza to crack a whip on some of the talented local players and showed that no footballer was above board.
The affected players were Zesco midfielder, Justin Zulu and the Power quartet of goalkeeper, Joshua Titima with midfielders Kennedy Mudenda, Julius Situmbeko and Richard Kasonde.
Janza stated that his decision was necessary to enable the players understand the importance of discipline. He claimed the players were not ready and their minds were not set for
national duty and emphasised that discipline was cardinal.
Indeed, playing for the national team is a privilege which all footballers should cherish but this comes with discipline.
While there was no explanation from Zesco why Zulu arrived late in Lusaka when his clubmate, Nyambe Mulenga had already linked up with other national team call-ups, Power claimed there was no official communication from FAZ.
Power said they only learnt about the four players being needed for national duty through media reports. One thing that struck my mind was the issue of communication.
If Power claim they only knew about their players being wanted for national duty through the media, why didn't they ask Football House for clarification?
On the other hand, FAZ made an official statement where they announced the local players needed for a three-day training camp and believed all the affected clubs got the message.
Despite my not being privy to the goings on between FAZ and its affiliates, I think there is need to improve communication.
Whatever the case, Football House and clubs need to have a good rapport for the betterment of the 'beautiful' game.
I am happy that Janza has since recalled the four Power players for the August 31 international friendly match against Sudan set for the newly-built Heroes National Stadium in Lusaka.
I believe the affected players have got their lessons and I am sure their commitment to national assignments will improve for the better.
As a sign off this week, I wish to inform our esteemed readers that I am taking a sabbatical break and during my absence my colleague, Shamaoma Musonda will keep up the flame burning in this corner.