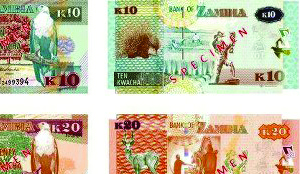 By TIZA NYIMBIRI –
THE Kwacha traded flat against the United States Dollar on Monday amid thin trades, latest market reports have indicated.
A check at Golden Coin bureau de change in Lusaka yesterday showed that the Kwacha was trading between K6.06 and K6.15.
At Zampost Bureau de Change, the Kwacha was trading at K6.15 against the Dollar while at Saints Bureau de Change; local unit was trading at K6.15 against the greenback.
Meanwhile, the Zanaco newsletter indicated that on the Kwacha closed last week trading flat against the Dollar.
From an open of K6.05/K6.07 per dollar, down by 0.5 from Thursday's close, the local unit touched a low of K6.05/K6.07 but remained unchanged for most of the day until close with corporate and interbank activity relatively subdued.