Name: Freddie Mwila
D.o.B: July 6, 1946
Place of Birth: Kasama
Playing Position: Midfielder (retired)
Youth Career:
1960-1963 Wusakile Youth Club
Club Career:
1964-1966 Rokana United, now Nkana
1967-1969 Atlanta Chiefs (USA)
1960-1970 Aston Villa (England)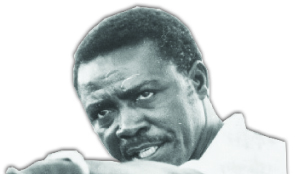 1970 Rokana United, now Nkana
1971 Atlanta Chiefs
1971-1973 Rokana United, now Nkana
1973 Atlanta Apollos (USA)
1973-1977 Ndola United
National team:
1965-1977
Teams Managed:
1973–1977 Ndola United
1978 Nkwazi F.C
1978–1979 TAFIC
1979–1985 Power Dynamos
1986 Ziscosteel F.C
1987–1990 Circuit Chiefs F.C.
1990–1992 Power Dynamos
1992–1993 Township Rollers/Botswana National Team
1993 Zambia National team
1994–1996 Township Rollers
1996–1997 Zambia National Team
1997–1998 Qwa Qwa Stars
2000 Lusaka Dynamos F.C
•He was the second black footballer to play for Aston Villa and the first Zambian to play in England.
•He led Power Dynamos to the 1991 Mandela Cup
•In 2003 A week before Mwila could sign a contract to coach South Africa's Free State Stars, he was involved in a road accident. The crash left him with two broken legs but fortunate to escape with his life as Malawian coach Robert Banda, who was driving the car, died instantly in the collision. Mwila has not been actively involved in football since then. He now resides in Lusaka.