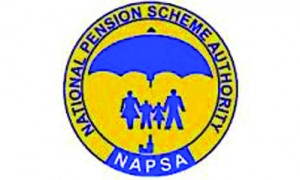 By HELEN ZULU –
THE National Pension Scheme Authority (NAPSA) has introduced Pension Life Certificates which will see all those on the current NAPSA Pension Payroll being required to submit annually to NAPSA.
This was effective November this year, for pension payable in 2015.
According to a statement issued by the NAPSA corporate affairs office, each pensioner would be required to complete and submit a Life Certificate for them to continue receiving their pension.
The statement said failure to submit a Life Certificate would result in the suspension of the monthly pension and payment would only be reinstated once the Certificate was fully completed and submitted as required.
The Authority said pensioners would be able to collect their Life Certificates from any NAPSA office across the country from November.
"NAPSA has introduced pension Life Certificates which all those on the current NAPSA Pension Payroll shall be required to submit annually to the nearest NAPSA office, beginning November 1 2014 for pension's payable in 2015," it said.
Once completed and attested, the Life Certificate should be submitted in person together with a recent passport size photograph.
NAPSA pensioners and the general public were also encouraged to keep abreast of continuous publicity and sensitisation on the Life Certificate exercise in the media.