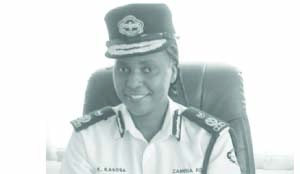 By MAYA NTANDA –
 A SIXTY-ONE-YEAR-OLD woman of Parklands residential area in Kitwe has allegedly been strangled with a pair of ladies' stockings by unknown people.
 Elina Mumba, of House number 28 Pamo Avenue, was found dead in a drainage near her home around 19:00 hours on Tuesday.
 The deceased's daughter, Mutinta Mumba and acting Copperbelt police commissioner Joyce Kasosa confirmed the death in separate interviews.
 Ms Mumba said her mother, a former employee of the Mines Safety Department, left home between 18:00 hours and 19:00 hours to buy bread and airtime at a nearby makeshift shop and on her way back, she was allegedly strangled with a pair of ladies' leggings on the neck.
 She said at the funeral house that some of Ms Mumba's children who were home at the time heard people screaming and cars hooting outside the gate, and that when they went to check, they found a lot of people trying to catch a glimpse of her mother.
 She said police officers had already arrived at the scene.
 She said the family was informed by on-lookers that her mother's assailant was wearing a pair of shorts and had covered his head.
 She said her mother, a Seventh Day Adventist Church member, was a humble and cheerful woman who depended on her house rentals for survival.
 Ms Mumba said the deceased's five children and all relatives were shocked at what had befallen them, especially that she was in good health.
 Ms Kasosa said police received a report of murder in which Ms Mumba was found dead 50 metres from her house on the road side concrete drainage.
 She said Ms Mumba's body was facing upwards with her dress pulled up to the stomach.
 The body of the deceased is in the Kitwe Central Hospital mortuary awaiting a postmortem, and police have instituted investigations.
 Meanwhile, police are still investigating the case in which Standard Chartered Bank Town Centre Branch was robbed of an undisclosed amount of money on Sunday.
 Suspected criminals broke into the bank and snatched an undisclosed amount of money from the Automated Teller Machine strong room on Oxford Road.
 Police on Monday detained four people to help with investigations.