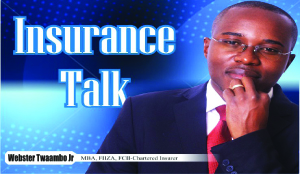 I was only about three years old in the industry when an elderly man walked to my desk to buy Insurance. This man was processing a loan from some institution and among the requirements was to have the property insured which was being used as collateral.
He presented before me a survey report which was done by one of the well known professional surveyors who valued the property at K7 million by then or in today's rebased currency is K7,000.
The financier, the bank in this case, had already passed the transaction and was only waiting for an Insurance document to prove that the 'property' was insurance against insurable perils.
No sooner did I start analysing the valuation report than I became curious. I took time to explain to the man how Insurance works and all he was doing was just agreeing by nodding his head.
This increased my curiosity and I requested him to complete the proposal form so that I could get more details from him about his property. Before granting cover, I asked the man to take me to where the 'house' was situated so that I could inspect it.
We got into my car and drove to Mushili area in Ndola. As we were driving in the sloppy and mud-spattered terrains of Mushili, the man asked me to turn and told me 'we have arrived.'
"Where is the house?" I asked him but he responded again, saying "we have arrived at the place."
For once I thought I was watching a movie!
With his gloomy face down he then asked me to 'help' him out and further said 'I will see what I can do for you …'. Being my first encounter of such an experience I was at a loss of words for this elderly man except to tell him 'let us go back'.
He was probably expecting me to entertain his 'proposal' but as soon as we reached the office I told him that there was nothing I could do since there was no house to insure.
I then reported the case to my boss and that was the end of the story.
One of the most astonishing issues to me from this episode was the fact that a professional valuation company had issued a valuation report which was also accepted by the bank. Curiosity which is a key attribute in my profession of underwriting saved my company from this calculated fraud.
I was also made to ramble as to whether valuation reports should not be trusted on face value.
One might be asking why I did not go ahead to give Insurance since there was no risk at all. Well this could not just dent my professional career but what could have stopped this man from finding a real house that was damaged or on fire and connive with owners to purport that it was the one he insured.
This story also reiterates the need for due diligence to underwriters when granting cover. It may not be on each and every subject matter that may be inspected but one should beware of possible fraud.
There was also an interesting case I heard where one person borrowed a vehicle, changed the number plate for a damaged vehicle and drove it for Insurance.
The underwriter inspected the vehicle and was 'satisfied' that he inspected the correct vehicle as he saw the registration number plate but did not check the engine and chassis numbers.
Few days later a claim was logged on the same 'vehicle.'
However, this calculated fraud could not pass as there was a concerned and gallant public man who could not withstand evil before his eyes.
He leaked information to the insurer and the claim was repudiated.
The culprit was accordingly brought to book.
Comments: webster@picz.co.zm or webster_tj@hotmail.com or on face book search for Insurance Talk-Zambia page or call/text 0977 857 055
(The Author is a Chartered Insurer with ten years industry experience)