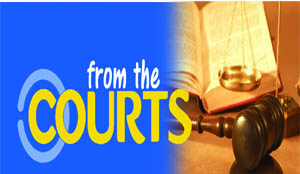 By SARAH MWANZA –
A PASTOR of New Creation Testament Church (NCTC) in Lusaka's Meanwood area has sued two elders from his church for allegedly accusing him of performing miracles using witchcraft.
He said the two elders had been going round telling other members of the church that he was a fake prophet and performed all miracles using witchcraft.
Pastor Paul Banda, 29, sued Oliver Kabanja, 36, and Thomas Mulaiso, 41, for defamation of character citing that they accused him of using witchcraft to perform miracles.
Banda said in 2012, he opened his church and within a year, the membership grew and he decided to ordain some elders.
He said among the church elders ordained was Kabanja and Mulaiso but to his surprise, after some time, the duo started accusing him of practising witchcraft.
He stated that the two elders went to an extent of inciting other members of his church to turn against him, while at the same time advocating his removal as a pastor.
He said the two elders (Kabanja and Mulaiso) together with other members of the church managed to chase him from the church.
Despite him resorting to leaving the church and worship from his home, the two continued tarnishing his name.
Josline Kayemba, 32, who stood as Pastor Banda's witness told the court that Kabanja and Mulaiso followed her to her house and asked her to stop going to Banda's church over witchcraft allegation.
"These two came to my house and told me to stop going to Banda's church as he used magic to perform miracles," she said.
Thelma Chisha another witness also told the court that the two had equally followed her home and told her that the pastor was a wizard.
"The two elders also followed me and told me to open my spiritual eyes so that I can see the source of Pastor Banda's powers," she said.
The case has since been adjourned to June 26 to allow the two defendants present their witness.
Graveyard Sex tale shocks court
By SARAH MWANZA –
A FULLY packed Matero local court was shocked when a man of Lusaka's Ten Miles told the court that he watched his wife having sex with another man at a nearby graveyard.
Moscaw Mukambo, 32, said on May 28, he saw his wife with Robson Chikundi heading to the graveyard around 20:00 hours and followed them and watched them as they had sex.
Mukambo, 32, told the court that on May 28, he caught his brother in-law making love to his wife who is seven months pregnant.
This is a case in which Mukambo sued Chikundi, 27, for adultery.
Mukambo said on that fateful day, he came back from work around 20:00 hours only to find that his wife was not home.
He then decided to take a leisurely walk and in the process saw his wife with his brother in-law heading to the graveyard.
He then decided to follow them until they reached the graveyard and watched as they made love.
He said he never wanted to approach Chikundi with no proper evidence, hence approaching him after he finished having sex with his wife.
"I watched my wife having sex with Chikundi because I wanted to have proper evidence so that the two would not deny," he said.
Mukambo's wife Brenda Banda, 26, admitted having sex with Chikundi at the graveyard but said she was forced.
She said she accepted to follow Chikundi to the graveyard to save her life because he threatened to kill her.
"He told me that if I don't follow him he would kill me by slitting my throat using a broken bottle which he was holding in his hands," she said.
In his defence Chikundi caused laughter when he denied ever knowing Banda when he had earlier told the court that the two were related.
He said he could only admit having sex with Brenda if Mukambo produced some clothes collected when the two were having sex.
"I don't know this woman and I never had sex with her, let Mukambo show the court my clothes which he collected the time I was having sex with his wife," he said.
Magistrate Lewis Mumba, sitting with Petronella Kalyelye, ordered Chikundi to compensate Mukambo K8,000 for committing adultery with his wife.
Woman (18) sues dad over financial support
By SARAH MWANZA –
AN 18-year-old woman of Lusaka's Matero Township has sued her father for failing to support her financially.
Vanessa Moyo, said since she was a little girl, her father had neglected her and never supported her in any way.
Ms Moyo sued her biological father Jimmy Mukuni, 40, for child maintenance accusing him of being irresponsible.
She told the court that she had even failed to complete her education because her father was not supporting her financially.
She said she had always stayed with her grandmother who had been supporting her but she was now too old to support her.
She said it was unfair for her father to deny her of her birth right by not giving her what rightfully belonged to her.
"He is my father, the one who brought me on this earth, so he has a duty to ensure that he provides all my needs because it is my right," he said.
She said she sat for her Grade Nine examinations in 2013 and since then, she had failed to collect her results because she owed the school a balance of K550 which her father had refused to settle.
"I want my father to start supporting me financially just the way he is supporting other children," she said.
But Mukuni said he could not support his child because he was unemployed though he was supporting eight other children.
He said he was, however, willing to be supporting her if she accepted to be staying with him at his house.
But Ms Moyo turned down the idea of staying with him and said all she wanted was support from him.
"I want her to be staying in my house so that I will be paying for everything that she needs but not giving her money," he said.
Senior local court magistrate Petronella Kalyelye sitting with Lewis Mumba ordered Mukuni to give K350 support per month to his child.
He was further ordered to ensure that he cleared the bill at her school so that she could get her results and proceed to Grade 10.
Ndola main local court works to resume
By MUNAMBEZA MUWANEI –
CONSTRUCTION of the Ndola main local court which was demolished two years ago to pave way for a new structure, will soon commence.
Following the demolition of the structure, the contractor moved on site but abandoned the works due to limited resources.
But when contacted for a comment, High Court Registrar Mathews Zulu said works for the Ndola Main Local Court were expected to begin soon.
Mr Zulu said the demolition of the old structure had affected the operations of the Ndola main local court as they had to be moved to the magistrate's court building.
"The demolition has heavily inconvenienced the court operations but we are trying to ensure the new structure is complete," he said.
He said as a result of the demolition, some of the cases for the Ndola main local court had had to be redistributed.
He said the Judiciary was waiting for funding from the Treasury and that works would soon start after the funding.
"We are hoping that we get funding before the end of the year because we don't want this project to spill over into 2016," he said.
The Ndola main local court was demolished in 2013 to pave way for the construction of a modern building but since then the works have stalled.
The only structure at the site is a small office used to keep some of the documents for the court and the caretaker's house.
Following the demolition, the staff at the Ndola main local court had been forced to carry files from the small office to the magistrate's courts whenever there was a court session.
Girl narrates sister's murder
BY SYLVIA MWEETWA
A NINETEEN-YEAR-OLD girl has narrated before the Kabwe High Court how her brother-in-law allegedly brutally killed her elder sister by tying her with a rope around her neck following a misunderstanding.
Priscilla Mulimbanyika of Sugar Two Village in Chief Shakumbila's area in Mumbwa District narrated in court that she saw the brother-in-law kicking her sister who had a rope around her neck and that he also threatened to kill her if she was going to continue interfering.
Best Hangala is charged with the murder of his wife Melinda Mulimbanyika.
During trial yesterday, Priscilla told Kabwe High Court Judge-in-Charge Dominic Sichinga that she saw Hangala beating his wife before she was discovered dead.
She narrated that on the fateful morning, she went in the bush with her late sister to look for firewood when she suddenly saw the husband who asked her to wait for them at a distance, while he talked to the sister.
She said later, she heard her sister calling for help and rushed to where the couple was and on arrival, found her with a rope tied around the neck.
"Your Lordship, after seeing what was happening, I attempted to rescue my sister but the accused threatened to kill me.
Later, I picked a stone and hit him and after standing up, he hit me with his fists on my left eye and I felt dizzy before falling down," she said.
She said when she asked the accused why he was maltreating her sister, he did not respond, so she rushed home to inform her brothers. When she later returned to the scene where she had left them, she did not find the couple.
She told the court that she started  calling out her sister's name, while searching for the couple but there was no response until she and her brothers found the sister with a rope around her neck and blood oozing from her mouth and nostrils.
After informing police who helped take the body to the mortuary, she gave a statement that the couple's marriage had been characterised by squabbles for a long time.
Trial continues.
Lusaka man ululates after divorce
By ADRIAN MWANZA –
A MAN of Misisi Township surprised the Lusaka Boma court when he started ululating after his marriage was dissolved.
Nawa Kufawandi, 37, jumped with joy and started ululating after his marriage to Njengo Liseli, 40, was dissolved on grounds that it had broken down irretrievably.
This is a case in which Liseli sued Kufawandi for divorce for neglecting the family and not providing for her needs.
Liseli said her husband had neglected the family and that he never used to provide anything for her and the children who were almost becoming destitute.
She said the situation was very bad and that her husband even reached the extent of cooking for himself and eat his own food.
"This man used to cook and eat his own food separately even when we had already prepared food for him," she said.
She said her husband did not even buy her things like dresses and underwear and that she took it upon herself to provide for the family.
In his defence, Kufawandi said problems in the family were brought about by her daughter who disrespected and insulted him.
He said Liseli's daughter from a previous marriage used to openly rebuke and insult him whenever he tried to control her behaviour.
Kufawandi told the court that his wife never used to show him her pay slip even when he tried to be as transparent as he could.
He said his wife did not even consider his salary due to the fact that she used to get more money than him.
"My wife does not consider my salary or even look at my pay slip because she gets more money than me," he said.
He told the court that his wife never used to wash or iron for him despite him appealing to her to change her attitude.
But in passing judgment, senior court magistrate Juliet Mwila and Prudence Bwalya said it was evident that the couple had no love for each other.
They said it was the court's obligation to dissolve the marriage before people killed each other due to the lack of love in the house.
Magistrate Mwila granted the couple divorce without compensation and that the children remain with their mother.