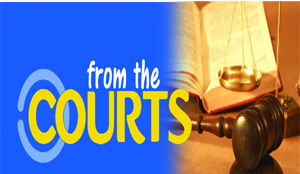 By SYLVIA MWEETWA –
THE 35-year-old Kabwe woman alleged to have stolen K10,000 from a farmer at a lodge, escaped a jail term after the court  convicted her and sentenced her to four months community work.
Precious Nchimunya was charged with stealing K10,000 from Layborn Mudenda on June 6, 2015, a charge she has denied but during trial the complainant testified that the woman he had picked from a night club allegedly stole his K10,000 cash at a lodge where he had booked to spend a night.
He narrated before magistrate Chongo Musonda that on the fateful morning, he was shocked when he woke up to discover that the woman he had spent a night with was not in the room and his K10,000 he had hidden in the socks had disappeared.
Mr Mudenda said he had K11, 000 realised from the sale of three heads of cattle, from which he removed K1, 000 for use and the remaining K10, 000 was allegedly stolen by Nchimunya.
The plaintiff said he was waiting for his friend at Brimas Night Club when he was approached by the woman who asked if he  could buy her a beer, which he did and later went to book a room at a lodge.
He told the court that when he woke up the following morning around 04:00 hours, he discovered that the woman had disappeared and the money was not where he had hidden it before sleeping.
This prompted him to go back to the night club where he had picked her from and was later led to the woman's house after he reported the matter to the Police.
A witness, Estella Mulenga, told the court that she recalled receiving a team of Police officers at her home enquiring about  Nchimunya, who is her neighbour.
Ms Mulenga said immediately she saw Nchimunya, she explained to her about a team of Police officers who were looking for her but that the accused produced a K2, 000 and said it was given to her by the complainant to keep.
She later went to the Police where they recorded a statement and surrendered the K2, 000 which was given to her.
As the case closed, magistrate Musonda found the accused with a case to answer and put her on defence, though she denied stealing from Mudenda and insisted that she was given K2,000 to keep as Mudenda was too drunk at the time.
Nchimunya admitted going with Mudenda to his room but maintained that she did not steal from him as alleged and that she was surprised that Mudenda accused her of stealing his money and wondered why such an allegation was made against her.
Nchimunya brought in her uncle, a retired Major Hazemba as her defence witness who told the court that he did not know how his niece survives and did not follow Nchimunya everywhere she goes and could not know what happened that night.
During cross-examination Nchimunya was asked why she left the room very early in the morning if she did not steal the money, but she said Mudenda was fast asleep and she did not want to disturb him.
In passing judgment, the court sentenced the accused to four months community work and cautioned her against engaging in such acts in future.
Earlier in mitigation, she asked for mercy because she was a widow with four children and that if sent to jail, the defendants would suffer.
Live in harmony- Court
By MUNAMBEZA MUWANEI  –
THE Chifubu Local Court has ordered two women of Ndola to live in harmony and peace for a period of three years.
Senior local court magistrate Kaala Nyambe made the order when she passed judgment in a case where Florida Tembo of Chifubu Township sued Monde Mubita for insults and defamation of character.
Earlier, Tembo told the court that Mubita insulted and defamed her character and was claiming compensation.
The court dismissed the matter and reconciled the two parties and gave them a period of three years to live in peace.
'My wife misuses rental money'
By SARAH MWANZA-
A MAN of Lusaka's Chunga Township stirred laughter in a fully-packed Matero local court when he said he was sure that one day he would spend a night outside if he remained married to his wife.
Lewis Kawisha, 42, told the court that his wife was so careless with money that she even used to misuse money for rentals.
This was heard when the matter came before magistrate Lewis Mumba and Pauline Newa when Kawisha sued his wife Sara Nalwimba,33, for divorce.
The two got married in 2001 and have four children together and that problems in their marriage started shortly after their wedding.
"I am sure that one day my children and I will spend the night outside because my wife does not know how to use money and what hurts me is that she even forgets to pay rentals for the house we stay in," he said.
Kawisha said his wife was also in the habit of getting things on credit without his permission and that there was nothing tangible she was doing with the money.
He said relatives had tried to talk to her over the issue but she wasn't getting any better.
"I want divorce because I'm tired of her even my relatives don't like her because of her behaviour," he said.
In her statement Nalwimba told the court that she was not willing to divorce her husband because the children were still young.
She said from the time her husband abandoned them, the children were suffering and moving from one house to another in search of shelter and food.
The children are at the moment not even going to school because her husband had refused to pay their school fees.
She added that her husband left her in a rented house and the landlord chased her and was currently demanding the unpaid rentals.
"My husband abandoned us after he got himself a job, right now the landlord is on my neck demanding his money," she said.
Magistrate Lewis Mumba granted the two divorce and ordered Kawisha to compensate Nalwimba with K14,000.
The custody of the children was given to Nalwimba and Kawisha was ordered to be maintaining them with K500.
Guard sues boss for 'dog' remark
By PASSY HAACHIZO –
THE Kanyama local court has heard how a man sued his former employer for calling him a dog after failing to pay him his terminal benefits.
This was in a case in which Anderson Mungoni, 73, of Chibolya Township sued his former employer Bhatta Chayla, 66, of C115 Fairview area in Lusaka for defamation after calling him a dog when he demanded his terminal benefits.
Mangani said he dragged his former employer whom he had served for 18 years for using unpalatable language at the expense of his sweat.
On February 3, 2015, Chayla came back driving after 18:00 hours and entered the house pretending not to have seen his guard, Mr Mungoni, but when he came back from the house he called him a dog and chased him away.
"I told him, I had worked for him for 18 years and why should he now call me a dog when what I had earlier wanted was what I had worked for?" Mr Mungoni asked.
Mr Mungoni said he decided to sue Chayla for compensation as it was rude for an employer to call his worker names when he had served him all that long.
But in defence Chayla said he was not that evil to call his long serving employee such a bad name as he had liked his way of executing duties.
"Mr Mungoni, let us try to be sincere after all that long,  you think I can find the guts to call you a dog or send you away from the company, no I am not that bad even other employees can be my witnesses," Chayla said.
Chayla said due to the love he had for his former employee, he had even employed one of his daughters to appreciate him.
In passing judgment, senior magistrate Ackim Phiri said there was no case as the defendant had also prepared a cheque for K7, 000 for his former employee.
"As he has already said he wants you to continue being friends because you may need each other's help tomorrow but if you are aggrieved,  you appeal within 30 days," the magistrate added.
Student in court over "cup cake" marijuana
BY SYLVIA MWEETWA –
A MULUNGUSHI University security guard has narrated in court how a 23-year-old student was apprehended and  confiscated more than 40 cup cakes suspected to have contained marijuana.
Arnold Siwila testified before Kabwe principal resident magistrate John Mbuzi that during an operation, the team also confiscated some green leaves that looked like cannabis being dried under the bed.
Ndambo Chinda is facing charges of trafficking in psychotropic herbal product of cannabis sativa and trafficked in 20.3 grammes of marijuana.
Siwila, who is acting security officer in charge of operations, narrated in court during examination by Drug Enforcement Commission (DEC) prosecutor Elizabeth Silute that on June 4, 2015 around 22:00 hours during an operation, he went to Chinda's room 20.
After searching the room, the team confiscated 43 cup cakes which looked strange because they had some green particles and that the accused confessed that he was selling them at K10 each. The team also confiscated  some flour and a baking pan.
But lawyer representing Chinda, Lastone Mwanabo of LM Chambers, objected to the testimony of his client confessing if a warn and caution statement was not taken, forcing the prosecutor to abandon the testimony.
"Your honour after I realised that the situation was getting tense, we decided to take those apprehended  students to Police but we left behind the exhibits in case we were attacked by students," he said.
He said the security officers could conduct a search in any hostel without a search warrant and denied  assertions that the items confiscated from the accused were planted by security officers.
Trial continues.
'He left me whenever I got pregnant'
By SARAH MWANZA –
THE Matero local court has heard how a man of Lusaka's Matero Township used to abandon his wife whenever she got pregnant.
An emotional Gertrude Tembo, 33, narrated to the court how her husband used to abandon her whenever he got  her pregnant, citing financial difficulties.
This is a case in which Tembo sued Brian Mwila, 44, for divorce after the two failed to resolve their marital disputes.
The two got married in 2002 and have three children, problems in their marriage started when Tembo became pregnant with their first child.
Tembo said her husband only loved her when she was not pregnant but used to abandon her immediately she conceived.
She said when she became pregnant her husband used to take her to her mother's place stating that he had financial challenges.
During the stay at her place her husband never used to bother to follow her or the child after delivery.
Tembo said during the birth of their first born, she thought it was normal to send her to her mother's place but to her surprise he continued to do the same even when she was pregnant with their third child.
She further stated that every time her husband sent her to her mother's place she discovered that her husband was in a habit of bringing other women in their matrimonial home.
"I don't want my husband, he only loves me when I am not pregnant, immediately I become pregnant he takes me to my mother's place only to come for me after two years," she said.
Tembo also said her husband was not supporting the children because all their three children were being kept by her parents.
"In 2011 my husband took me to my mother's place so that I could deliver our third child and only to come back this year," she said.
In his statement, Mwila told the court that he used to send his wife to his mother-in-law because he used to have some financial challenges whenever she was pregnant.
He said in 2011 after taking his wife to her mother, he decided to go to the Copperbelt in search of a job and that was why he was not in touch with the wife.
"I love my wife, I don't want to divorce her and that is the reason why I have come back for her and the children," he said.
Senior court magistrate Pauline Newa granted the two divorce and ordered Mwila to compensate Tembo with K10 000.
Children's custody was given to Tembo and Mwila was ordered to be maintaining them with K300.
'I am not a priest to live without sex'
By Adrian Mwanza –
A MAN of Emmasdale caused laughter after he said he is not a priest who could live without having sex with a woman after his wife denied him his conjugal rights.
Neverson Mpundu 42 said he was not a priest or a bishop who could survive without having sex with a woman, which prompted him to get married.
Mpundu said it was not fair that his wife used to deny him his conjugal rights and that he could not bear the fact that she used to torture him on purpose.
Mpundu was sued for divorce by his wife Gift Muyembe, 40, of Garden Township after the two failed to reconcile their differences.
Muyembe told the court that she wanted her marriage to Mpundu to be dissolved because he was having an affair with her cousin.
She said Mpundu even brought her cousin in their matrimonial home after the two were on separation.
Muyembe said the couple married in 2001 and that they had no child together and that problems started in 2006.
She said she used to find used condoms in clothes whenever she was washing and when confronted, he used to lose his temper.
"I used to find used condoms in jackets whenever I was washing his clothes for him but he used to lose his temper whenever I confronted him," she said.
But Mpundu said his wife had a habit of leaving their matrimonial home whenever they had an argument.
He said he had never chased his wife from the house but that she had a tendency of leaving their matrimonial home after an argument.
Mpundu said he had called for a meeting with their parents and church elders in order to resolve the problems the couple were facing but to no avail.
He said they had been on separation for a long time and that he had no problem divorcing her since she was no longer interested in him.
"I do not have any objection in getting a divorce since she has made it clear that she does not want to be with me," he said.
Magistrate Morgan Kayanika said it was evident that there was no love between the couple and dissolved the marriage.
He ordered Mpundu to compensate Muyembe K8, 000 to be paid in installments of K200 with the first installment being K2, 000.