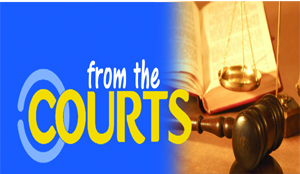 By PASSY HAACHIZO –
A LUSAKA woman has been puzzled by the continued appearance of pus on her husband's pants.
Timmy Chilali, 38, a cross border driver from Garden House married Mervis Mumba, 32, from Garden Park in 2007 and the two lived in harmony until 2011 when Chilali became promiscuous.
Mumba and Chilali got married after the latter paid K500 of the K1,500 bride price and the two did not have any child together but each had a child from previous relationships.
According to Mumba, her husband left home most of the time pretending to go for business before it was later discovered that he was having extra-marital affairs.
"The first time he lied that he was going to Kabangwe, the second time he said he was going to Chongwe. Sometimes he would lie that he was in South Africa yet he was just within the country with that girl seated there," Mumba said pointing at another woman in court.
Mumba said in 2013 she was confused when she started finding white substance on her husband's pants which at first she thought was semen.
She later on took one of his underwears to her in-law parents who later called Chilali for advice to go for a test.
But in defence, Chilali said the problem was as a result of not having a child together as his wife started demanding for children in a manner that indicated that he was impotent.
"I had a child with my first wife and she also had one from another man but due to her persistent provoking I was forced to impregnate outside marriage," Chilali said.
He disputed allegations that he was not giving his wife money, defending himself that he had at some point advised his wife to be patient and wait for God's time but she could not understand.
In passing judgment, Kanyama local court senior Magistrates, Ackim Phiri and Daniel Phiri adjourned the matter to a latter date and warned the grandmother to one of Chilali's girlfriends who was before court to desist from inciting people to do bad things.
Bulgarian convicts cry foul
By SYLVIA MWEETWA –
TWO incarcerated Bulgarians who are Automated Teller machine (ATM) schemers and were sentenced to five years imprisonment by a Kabwe Magistrate's Court have complained bitterly following the decision by police to slap them with more 20 charges less than a week before their release from prison.
Ivanov Andrey Petrov, 41, and his co-accused Velidolsk Kiril Metodiew, 36 appeared in court for plea for the 40 counts they have been charged with before Kabwe Magistrate Chimuka  Mutafela.
The two serving convicts are facing charges of interference of banking data, prohibition of illegal trade through use of internet, unauthorised access data and theft.
But when the case came up for plea, the court requested for an interpreter before plea was taken but the two convicts told the court that it was unfair that police had decided to place more charges and claimed that the charges were not different from the charges they were convicted for.
"Your honour it is clear that the police have decided to charge us because we have demanded for our money and other properties, which were taken by police and sadly we have not even seen our lawyers," said one of them.
According to the charge sheet, the two, while acting together on different dates accessed data of different account holders at Finance Bank, and withdrew  different amounts from the said accounts using fraudulent transactions.
Among other affected accounts holders includes Christopher Sichilongo, Henry Katwishi, Nesto Ngosa, Emmanuel Mulyakubinda, Muleba Mwewa, Boniface Katiyanga, Nesto Ngosa.
In Dec 2013, the two pleaded guilty to being in possession of implements of forgery before Kabwe Principal Resident Magistrate John Mbuzi.
The two convicts on December 17, 2013 jointly and while acting together with other unknown persons and without authority had in possession three high-tech pinhole camera bars, three magnetic card recorders, nine non-branded bank magnetic strip cards, an Acer laptop serial No. SNID 3171272234,6, and data download cables.
They also had a heavy snap blade cutter, and six rolls of double-sided mounting tape devices, all suspected to be implements for forgery.
The convicts when taking plea said they were sent to insert one of the implements in the Barclays Bank and Finance ATMs and they did not know how the gadgets worked. Contradicting themselves, they said some of the implements were used to tap data from the ATMs.
Adulterer cornered
By PASSY HAACHIZO –
THE Kanyama local court heard how a married man had sex for three weeks with his girlfriend in the sitting room while his wife was in the bedroom.
Perry Hiyuwa, 24, of Old Kanyama Township left his bedroom after bringing another girl home and started having sex with his girlfriend even when his wife was around.
His wife Ruth Musenge, 23, also from the same area had stayed with him for eight years in an illegal marriage and was often times starved sexually.
Musenge told the court that the duo got married on June 1, 2007 by eloping and Hiyuwa only paid K150 of K2,500 charged as bride price.
According to Musenge, the two had three children together although the husband doubted the third child as he suspected it was for another man.
She disclosed that everything was well from 2007 until the time she had the third pregnancy as the husband requested her to go home as he had committed a crime and was no longer in employment at the time.
"He told me to go home as he had committed a crime, so I had to go but whenever I called him, other girls answered the phone. He recently called me back but problems have continued," Musenge said.
But Hiyuwa denied being the father of the third child and challenged Musenge to produce birth certificates which indicated two surnames, Hiyuwa and Libongani.
He said that at some point he overheard his wife chatting with her relative whom Musenge told that she wanted to get married to a soldier who was living in Kaoma at the time.
"After a number of problems, as a man, I fell in love with another lady and together we started buying things in Kamwala and moreover, one day I was trying to call her line but her boyfriend answered instead," Hiyuwa said.
Hiyuwa told the court that Musenge should be ready to be in a polygamous marriage if she wanted to be with him.
In passing Judgment, Kanyama local court senior Magistrate, Serah Nyendwa sitting with senior Magistrate Ackim Phiri dismissed the claim, adding that the two were not married since Hiyuwa had not paid anything.
"It wasn't even marriage it was just a joke, mama he is just troubling you just go home all of you are for everyone who may want," Magistrate Nyendwa said.
She, however, ordered Hiyuwa to be paying for child maintenance out of his K900 salary he gets every month.
Ex-Kabushi MP sues Ndola council
By MUNAMBEZA MUWANEI –
FORMER Kabushi Member of Parliament Nedson Nzowa has filed an injunction in the Ndola high court to restrain the Ndola City Council to demolish the Lubuto Library and develop it into a shopping mall.
The injunction was filed three weeks ago and hearing of the matter has been set for September 2, 2015.
In May this year, the full council meeting approved the demolition of Lubuto Library to pave way for a construction of a mini shopping mall.
The local authority identified another area situated near the Lubuto Community Hall where a new modern library would be built by Inos Holdings Limited, a Ndola based investor.
Inos Holdings Limited offered to invest about K1,200 million for the said project which would also carter for two other mini malls in Ndeke and Chifubu Townships respectively.
Hubby divorced for denying sex
By SARAH MWANZA –
A WOMAN of Lusaka's Lilanda Township has sued her husband whom she has accused of sexually starving her for more than a year.
Tisa Banda, 23, said for the past one year six months, her husband had denied her sex and also used to stop her from visiting her relatives or attending funerals.
"My husband is obsessed with jealousy though he refuses to have sex with me. He does not even allow me to attend funerals or visit my relatives," she said.
This is a case in which Banda sued Albert Miyambo, 33, for divorce after the two failed to resolve their marital disputes.
The two got married in 2013 and have one child together. However, problems in their marriage started a few months after they got married ultimately leading Banda to sue her husband.
Banda said she had no reason to continue staying with him as he had been denying her sex, the main reason she agreed to marry him.
She explained that although the two were staying together in the house, they never slept on the same bed because her husband never wanted to have sex with her.
She said her husband had on several occasions asked her to leave him and used to threaten to kill her.
"My husband used to tell me that the only reason I stayed with him was the child we have together," she said.
She also stated that her husband was in a habit of talking to his girlfriends in her presence and respected them more than her.
She said a few months just after their wedding her husband started refusing to eat her food and started spending nights out.
"My husband used to desert home for days and when I confronted him about it, he used to beat me up claiming that I had no right to question his actions," she said.
She also said her husband did not respect her mother and that he had attempted to beat her up on several occasions.
In his statement, Miyambo told the court that he did not chase Banda from his house but that she packed her belongings on her own.
"This woman packed her belongings on her own and I decided to marry another woman but she is free to come home if she is willing to be in a polygamous marriage," he said.
And senior local court magistrate Lewis Mumba sitting with Pauline Newa granted them divorce and ordered Miyambo to compensate Banda with K7,000, to be paid in monthly instalments of K500.
The custody of the child was given to Banda and Miyambo was ordered to be maintaining it with K500.
'Consider renting out haunted house'
By DOROTHY TEMBO –
A FULLY packed Chelston local court has heard that a house that has been vacant for six years might be haunted.
Senior presiding Magistrate Hope Mwila told Musoma Sakala 43 from Chongwe and Edna Sakala 57 from Kalingalinga to consider putting tenants in the house which has been unoccupied for a long time.
Edna was sued by her brother Musoma for not maintaining the house that their deceased sibling left.
In passing judgment, the Magistrate urged the two parties to change the state administrator since Edna had failed to administer the house.
"There must be a ghost living in that house by now since it has stayed for a long time without any occupant. Six years is not a joke," Mwila said.
She said that the house should be put on rent and that all the land rates were to be paid in full because it was a crime not to pay the rates.
Musoma told the court that his elder sister had been the state administrator for six years since 2009 but was reluctant when it came to taking care of the house.
He said that when his young sister died, the house was locked and that no one goes there to check on it.
In defence, Edna said she did not take care of the house because she had gone to live in Chongwe.
She said it was a challenge for her to visit the house because of distance.
"I could not look after the house and I do not want to be the administrator anymore," said Edna.
Edna said she did not dispute the fact that she failed as an administrator but would gladly give the position to another person.