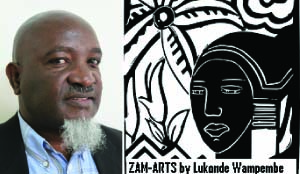 One of the greatest challenges in literary criticism is one which demands that a multilingual approach to works of art be applied and that that application should entail a translation from one distinct language to another language of diverse thought-patterns, values and tacit idiosyncrasies.
This apparently seems to be the task for me this week and it is no mean task at all even for the best in linguistic scientific knowledge and skill. I presume, though, that it is a delight to translate and critically review a newly published book of poetry in Ici-Bemba authored by my friend Alfred Sunday Mukanaka called 'Amakalata,' whose literal translation into English should, I suppose, simply be referred to as 'Letters.'  Whether this title holds true for the book is an entirely different matter which, space permitting, we might turn to in our discussion.
Talking about translations, literal or otherwise, I am reminded of a story I read in 'The Post' newspaper a number of years ago. It is about a journalist who attended the annual Mutomboko ceremony of the Lunda people of Luapula, a historic episode of how as a people they crossed Luapula River into modern day Zambia from Mwata yamvo's kingdom in the 1800s.
As the ceremony reached fever heat the Mwata or Mulopwe (title for Lunda chiefs akin to paramount) appeared to have fallen ill and was quickly whisked away from a deflated crowd. But just as everyone was wondering what had happened, the chief reappeared to the delight of all as women ululated and praises showered on him while others remarked, 'Umwaume abwela,' which unfortunately the unsuspecting journalist translated to mean: 'The man has come back' and thereupon missed the whole point and misled his readers across the nation and beyond its borders.
The coming back meant more than just a return to the arena after what might have been a brief treatment; it was a loaded statement of praise and pride in the Mwata's invisibility, his apparent unmatched ability to thwart the schemes of his enemies in an otherwise unseen battles and to silence them publicly in as a brief a moment as the alleged encounter would have lasted.
And yet that is the task on my hands  as I take a critical review of Mukanaka's vernacular verse; I request others with a multilingual competence and interest in Ici-Bemba to explore with me as we start to savor Mukanaka's vernacular poetry. Here is the persona's letter by a village- dwelling mother to a son or daughter in town where the child is supposedly working: 'Kalata ukufuma ku mushi or 'Letter from the village':
Mwana wandi kuno mushi tulifye umutende
Icibipilekofye, kankungwe alifimbula umutenge
Mwana wandi ala tushelefye mu kasuba
Neefi kuno mushi kushaba mafuta yakusuba
Ba wiso balifye nge nama yampanga
Katwishi kwena nga ukabasaanga
Pantu nomba bali nakafiifi pa menso
Icakuti naine nomba ndi no mwenso
Uko baaya konse ndakonka
Kwati kanya akaleonka!
(Son, everyone in the village is fine
Alas, a whirlwind ripped our thatched roof
Son, we are basking in unbearable heat
Worse still, skin lotion is hardly available
Your father is like a wild beast
I doubt if you will find him
He is even partially blind
To an extent I am greatly frightened
Where ever he goes, I also go
Like a babe on a mother's breast)
The verse sounds comical and natural; it is characteristic of fine writing. The poet draws adequately from a repertoire of traditional communication skills with sharp staccato expressions, exaggeration and deep intensity of motherly appeal. Letter writing is a long- held form of communication and is as long as man discovered its use in writing.  Written literature is great witness to this form.
Prisoners of conscious have used it before and one would mention men like the late Patrice Lumumba of Congo, Nelson Mandela of South Africa and others. They would use letters as a means of communication with families and the outside world. In the verse under review the question of emotional appeal runs through the letter like a thread. To wit:
Mwana wandi kwena nagu tulibapiina
Icakubulwa ubulangeti ceena ciibi, ndetiina
Eco nalembela kalata
Nagu taushitile amalata
Ukeese nefi nalumbula
Mwana wandi umunani walungula
Naaleka, nine noko
Niwe moolu yandi, niwe maboko.
(Son, we might be paupers
But to ev'n lack a blanket, I' m afraid
That is why I write this letter
Even if you don't buy iron sheets
Bring with you what I have mentioned
Son, relish on the fireplace is burning
Here I end; I am your mother
You are my legs, you are my hands)
This is a delicious ending from a village- groomed mother; whether by dictation or her own writing this is artistically appropriate. The traditional letter writing thrives on repetition which appears prominently here as exemplified in word 'son.' The reader will notice the burden of authority from the mother which should psychologically appeal to the conscious of the addressee; she is the mother writing to her own flesh and blood. It is like 'mayo mpaapa naine nkakupaapa' or 'mother, strap me on your back, I will (futuristic) also do.'
The poet artistically uses hyperbole meant to exaggerate the situation for greater effect which can be noticed in expressions like 'ripped thatch roof,' 'cracked skin of the father;' notice also how the scotching heat is used to accentuate the suffering.  Mukanaka uses— and sometimes overuses— end-thymes, which in translated texts like ours cannot be sustained.
End-rhyme is clearly noticed in 'umutende/umutenge; menso/mwenso; ndakoonka/akaleonka; tulibapiina/ndetiina; kalata/malata; nalumbula/walungula and noko/maboko. The setting of the verse as one observes in the third and second lines from the bottom of the second stanza 'relish on the fire-place is burning/ Here I end; I am your mother,' is artistically superb.
Oral traditions can be a rich reservoir of art. There is a legend that has been taking rounds in chief Munkonge's area of Kasama for centuries and like all such oral tales their authenticity cannot be ascertained easily. Long ago, the story goes, a young man and his sister, an exquisite village belle, traveled from Kaputa through chief Munkonge's chiefdom. She was so beautiful that the chief fell in love with her but was cautioned never to attempt to sleep with her.
However, the chief could not relent and on that ominous night he did; and lo and behold the village beauty died. Way back home, the royal family where the girl had hailed demanded an appearance of chief Munkonge for an explanation. But Chief Munkonge refused and neither could he attend the burial for the deceased.  It was then that later a vicious, mysterious lion invaded Munkonge's kingdom that devoured the male population; its name was Namweleu.
The poet makes use of this legend to connect the reader to a modern phenomenon of HIV and AIDS.
Mu mishi muli imisowa
Abantu balenukuka kwati bowa
Namweleu naisa mu caalo
Imfwa ili kwati cangalo
Abaina nomba nabonda
Imisana bali kwati malonda
Namweleu wandofesha balupwa
Ndechita shani, imbeeka shiletiina ukupwa!
(In the villages there is wailing
People are uprooted like mushrooms
Namweleu has come to the community
Death is like a play thing)
(People who were plump are now skinny
Their waists slender as the wasps'
Namweleu you've decimated my family
What will I do, the beautiful are afraid
Of being married!)
Written in 1989, the poem captures the devastating effect of the pandemic which still holds sway to this day with new infections on record although the wailing has subsided owing to a number of factors. For artistic reasons this is an interesting poem that is structured to harness a great message in a controlled fashion using an oral tradition for communication. It is imperative to note that although the rhyming lines are lost in a translated text, I have tried as much as possible to maintain the poet's thought pattern and artistic flavor as possibly intended. I ask the reader to explore more in these two poems and pick up lessons for the week.
–ofpoetspoems@gmail.com–