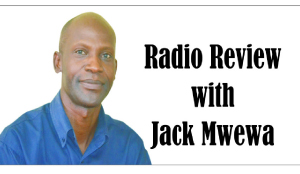 IT must have been Blaze, together with another person whose name we missed, they host a phone-in, text-through programme where they discuss relationships on Radio Phoenix every Sunday nights.
Like similar programmes on most radio stations, the programme attracts numerous concerns and answers from listeners.
The two gentlemen hosts are quite good dealing in those matters as they respond to concerns raised on that programme reasonably well.
Without taking anything away from the two, there is need for a lady on the panel, who should add the feminine view to some vexing questions posed on the programme.
Truth is that men's response to some questions could be prejudiced to their gender, therefore, a lady's view, especially on matters that affect women would be authoritative.
Radio 4
Her name is Kacaana Sinyani, she is otherwise known as 'S.L.B for 'the Slim Line Babe' on Zambia National Broadcasting Corporation (ZNBC)'s Radio 4.
What about her, you might ask, but take time to listen to her presentations on radio 4, you will not be disappointed.
Good radio deejays on air make radio interesting to listen to, just like everyone appreciates hearing appealing voices and especially when the words being heard are also saccharine.
What more if a good voice speaks good words and spiced up by good music, the result is simply captivating.
For a moment, one would think that you could have heard Kacaana before on the same radio station, yet, she is her own deejay with her own style.
But those who tuned-in last Friday afternoon might wonder why she left without saying bye after her transmission.
Dear Jack
To those who return to this column, whose letters we do not publish in time, be assured that the reason for the delay is simply to allow a buildup of those concerns.
***
Hi Jack,
My name is Osward, allow me space in your newspaper to express my views. I follow your comments about the performance of our radio stations in
Zambia, and most times I agree with your observations.
However, let me also add one song you forgot to mention when you wrote about songs that were banned from playing on radio.
Remember a song titled Tomato Balunda which was done by 2wice released in the early 2000s, in that song, the singer complained about the hiked prices of tomatoes.
The singer was simply expressing genuine concerns because prices of, not only tomatoes were quite high at that particular time.
Similarly, I read in your newspaper recently where your reporter wrote about increment in the same commodity 'Tomato' today.
My take on this matter is that the powers that be should allow the free expression of artistes in their quest to entertain and at the same time inform citizens.
Gerald Mukosha
Kafue
Response
Gerald,
Good to hear from you my brother, indeed 2wice sang about that, as to
whether the song was banned from playing on radio, am not sure.
***
Jack
Weston wrote from Solwezi: "Dear Jack, I am one of the followers of your articles in the Sunday Times.
Infact, my interest to read your column is because I am a fan of radio. My concern is that radio reception is so bad here in Solwezi such that we sometimes miss on developmental topics being discussed, could, through you, let authorities do something to improve the same here."
Yours, Weston Kunda,
Solwezi.
Response
Dear Weston,
Firstly, let me thank you for taking interest in reading this column, I am also delighted to hear that you are an ardent fan of radio.  That makes the two of us!
In trying to respond to your concern, maybe if you were specific on which radio station in particular, which is not heard in that region.
I want to believe there could be private radio stations and our national broadcaster Zambia National Broadcasting Corporation (ZNBC) in that area, but, which one don't you hear in Solwezi?
Keep listening to radio and continue reading this column.
Jack
***
Hello Jack,
May I take you back to one article in which you wrote indicating that Kafula played contemporary gospel music which she pitted against that from the old school on Radio Christian Voice.
You said; "As it would have been, the old school gospel tunes garnered more votes than today's, a confirmation that musicians do not make their music better any more."
My thinking is that all gospel songs are good, maybe what you should have said is that listeners have different tastes of music, what may be a good song to one might not be to another one.
You should also consider the age groups of listeners who voted. My feeling is that those from the old school must have voted for songs from their generation, while those of today voted for contemporary songs.
Exhildah Namutowe,
Response
Dear Exhilda,
Thank you for getting in touch, I don't know whether to agree or disagree with you, my disadvantage is that I am unable to determine the age group of those who were calling.
Jack
Stay tuned, don't touch that dial! – jackmwewa@gmail.com   0955115777