Published On March 25, 2016 » 2240 Views»
Features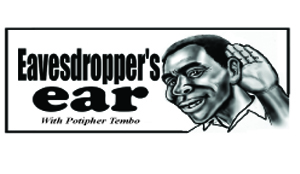 ORDINARILY, it is young people who seek to be helped by elderly people when they are faced with problems such as domestic squabbles and illness.
If it is the younger men who find themselves in trouble with their wives or had an ailment, they could not disclose to their relatives, but they approached older people outside their families and if it were younger women, they approached older women and their problems were sorted out without much ado.
In many instances, the younger men and women approached older people because the kind of problems they wanted solved were regarded as embarrassing and they could not tell such problems to their friends because they did not trust the friends.
However, it becomes absurd when elderly people go to younger ones seeking help or advice when they are in trouble with their spouses.
It is even strange when they seek help from young people when they fall sick with certain ailments considered shameful.
Recently, I was with a friend in Sakanya Township in Ndola where I had gone to report about a delivery irrigation horse pipe stolen from my garden.
It is quite a distance from my garden to Sakania Police Post and after we reported the case with my colleague, he said he was tired. He needed to refresh himself with a bit of opaque Chibuku beer, commonly known as brown.
It was around 13:00 hours when we got to one of the makeshift beer halls around Sakanya Market.  My colleague walked to the counter and bought 3.5 liters of brown Chibuku. He was given two plastic cups for us to use.
My friend filled the two cups and offered me one. After a swig from my cup, I thought the beer was too strong and I decided to get myself a fresh pack of Chibuku Shake-Shake.
Next to where we were seated were two men probably in their late 50s or early 60s who were seemingly enjoying their beer.
As we were drinking and chatting, another man came to the table where the two men were seated.
On seeing the young man who was probably in his 20s or 30s, one of the two men got to his feet and hugged him very cheerfully. You could see he liked him very much.
"Alo mwana! Ulishani? Nshilekumona shino nshiku. Nikwisa ulefisama (Hallo my friend, how are you? I don't see you these days, where are you hiding)?" asked the older man as he greeted the young man and offered him a seat.
The young man also appeared to be very happy to see the older man.
"Epo naba ba mudala, tatumonanafye (I am around big man, we just don't see each other)," said the young man.
After the young man took a seat, he was given a cup of Chibuku which he gulped instantly.
The young man seemed to be tired because he appeared to have been doing some hard work.
When he put the cup on the table, he sighed and said that he was very tired as he had come from a maize field.
The older man who had welcomed him introduced the young man to his friend.
"Uyu mwaicewa mucinshi sana. Nalilwele akaswende elyo naile kuli uyu mwana ukuti mutume ukuti aye anshitileko umuti kuli bamayo abakaya.
Naleumfwa insoni ukuya neka pantu nga naliyi sebanya ne mukulu ifi ukulwala akaswende. Nalefwaya uyu mwaice ukuti acite kwatii ewalwele elyo ngabamupela umiti andetele. Mucheshuko umwaice ilishibe umuti (This young man has a lot of respect. I suffered from a sexually transmitted disease (STD) – syphilis or gonorrhea- and I went to this young man asking him to go to the woman who knew the medicine for the disease. I was feeling shy to go there myself because I did not want to be embarrassed as an old man suffering from syphilis. I wanted this young man to go to the woman and pretend that it was him who was sick and after he got the medicine, he would bring it to me to use. But instead, the young man knew the medicine and he showed me and I got well)," explained the older man.
This was very interesting for me as an eavesdropper.
But one thing that boggled my mind was how this man, at this age, contracted an STD which is normally common among young people.
After the man explained this, his friend laughed and asked him why he suffered from such a shameful disease when he was married and had a lot of children.
The man filled his cup with Chibuku and drunk.
When he put the cup on the table, he shook his head disappointedly and said: "Boyi, lyashi ilitali. Nalakushimikila (My friend, it is a long story. I will tell you)," he said.
He got up and started dancing to a local song which he seemed to like so much. When the song ended, the man took his seat and again filled his cup.
I knew he was now going to tell his friend how he contracted syphilis or gonorrhea and for me not to miss the story, I pulled my chair closer to their table, but I pretended not to have had listened to what the man was telling his friend in case he cut off.
"Bakashi bandi abanjambukishe akaswende boyi (It is my wife who transmitted syphilis to me my friend)," proclaimed the man. Gosh! His wife transmitted syphilis to him! I really needed to listen to this. I filled my cup of Shake-Shake and my friend smiled to me knowing that this was food for my ears.
And the man started narrating his story to his friend.
According to the man, his wife used to go to Kashikishi to buy dry fish which she used to sell at the market.
About a week after she had returned from her business trip, the man discovered that he had contracted syphilis. But he wondered how this happened because he never flirted or went out with any woman.
"Ndi mukalamba sana boyi. Nshisenda amaule mu biya olo elyo nshyasendapo umwanakashi umbi apo abakashi bandi baile kwisabi.
Abakashi bandi bafwile tabaendele bwino (I'm a grown up man my friend.
I don't pick whores from beer halls and I had not gone with any woman since my wife went to buy fish. I suspect my wife didn't move well," explained the man.
His friend shook his head sadly.
"Camusebenya sana ico (That is very embarrassing)," commented his friend.
The man then went on to explain that when he told his wife about it, she was very furious and instead accused him of being a womaniser. She said he brought the disease home.
He said because of the argument, he did not want to continue with the subject because his wife would have blown the issue up to the neighbours who enjoyed such experiences.
He explained that he knew the woman who was recommended to him as someone who was an expert in treating STDs, but he could not approach her because it was shameful for him as an old man to be suffering from syphilis.
It was for this reason that he approached the young man he had known for a long time to get the medicine for him by making it appear as if it was him who was sick.
"I was lucky. The young man knew the medicine and he asked me to follow him in the bush so that he could show me the shrub where to get the roots and herbs for the treatment of the disease.
He said it was better that I knew the medicine because the next time I get the disease, I would find the medicine for myself," he said pointing at the young man.
He said he used the medicine together with his wife. I saw his friend turn to the young and shook his hand.
He then asked his friend why he did not just go to the clinic to which the man replied that he did not want people to know that he had contracted syphilis.
"There are young nurses at the clinic who are the same age as my children. What could they think of me as a syphilis patient? No! That disease is shameful," said the man.
The song that the man had been dancing to earlier was repeated. He got to his feet and started dancing. He really liked the song.
I filled my cup with the remaining Shake-Shake in the pack as my friend finished his brown beer.
It is a world of wonders I thought as we left the beer hall.
For comments:potipher 2014@gmail.com.
09559229796,
0966278597.