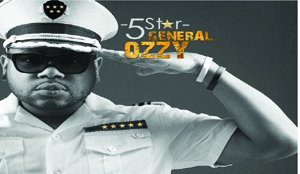 By CLEVER ZULU –
DANCEHALL artiste David Banda popularly known as 'General' Ozzy has released an album after a five-year silence.
The singer coincidentally releases his fifth album five years after his last collection Kobili that had the hit single Take My Heart hit the market.
Ozzy's album called Five Star was produced under his own label Brothahood Productions after the deejay parted company with Sling Beats Entertainment.
The Potential star had his four previous albums; the General, General Eyes, the Trilogy and Kobili recorded and produced by versatile producer and song writer Chali Mulalami aka Bravo of Sling Beats Entertainment.
In an interview with Times Entertainment the singer explained his silence on the music scene, saying he had been touring and trying to organise himself after separating from Sling Beats Entertainment.
"Since 2009 when I released my last album, I have been touring and just trying to evolve and learn about the music business since leaving Sling Beats," he said.
The Five Star album is available on the online market through popular sites such as Itunes, Spotify and Amazon on demand. The album's two singles Komboni Dugude and Uzakota Chikubaba are already receiving airplay while a mixture of Dancehall, Pop and Hip
Hop songs on the 15-track collection include African Gal, I've Got This Feeling, Only One, I Want It All, So Bad, I Can't Wait, Umba – Yeah and Ka Gong'a.
Other songs on the album that was released this week include No Way featuring Botswana hip hop artist Zeus, Vamene Unichita, You Are The Reason, To The Top and the remix of Komboni Dugude wrap up the album.