Published On April 8, 2016 » 2257 Views»
Features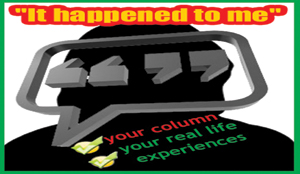 LOSS of household property these days does not always lead to recovery by the police. TIMOTHY KAMBILIMA describes how dedicated cops of yester-year recovered his family's most treasured possession that had been stolen.
THOSE who were fortunate to live in the Second Republic of Zambia, will agree with me that having a television set was a luxury and not a necessity. Growing up in the border town of Chililabombwe, my family was one of the fortunate ones to own a black and white television set.
This was in the early 1980's. The films I enjoyed watching were Knight Rider, Incredible Hulk and Six Million Dollar Man, among others. Those of our friends who were not privileged to have or lacked this facility would only be allowed to come in to enjoy the various movies on condition that they had taken a shower.
In short, we were encouraged to possess the virtue of being and to be clean as we were watching television. I remember that by then, my family was still small and the youngest was Catherine Kambilima who is now a secondary school teacher of home economics in Kitwe whose name was derived from 'Citwe,' a  head of an  elephant.
I also still recall our parents carrying the television set to their bedroom every night after we'd watched programmes. It never crossed my mind to find out why they religiously observed this ritual until one fateful day.
Though I cannot vividly recall that particular day, I do for sure remember it was during one of the cold months, however. My dad came to our room and, abruptly, he said, "Our television set is gone."
At first I didn't know what the man who was born seven years before Germany dictator Adolf Hitter attacked Poland meant. Believe you me, thieves had broken into our house using the living room window to gain entry and got away with our most prized possession at that time, the black and white television set!
The theft would deprive us of Knight Rider, Incredible Hulk and Six Million Dollar Man and other programmes the family liked! Where were we going to watch these programmes? Were we now going to join the less privileged in identifying a home or homes which had TV sets? Finding a home where to watch from would probably be easy, but as you will agree with me, it's not the same in terms of convenience, as watching from the comfort of your own home.
But then, here we were faced with a difficult choice; to forgo watching TV or find an alternative home!
"Oh, My God!" I heard myself cursing. Not only was I scared by this chilling news, but I also felt bad because that meant there would be no more watching of television in the comfort of our home.
No sooner had the family discovered the TV was no more, than my father decided to report the matter to the police station. That day the atmosphere in our home was somber like a person had died.
Our neighbors and other sympathisers who had got wind of our misfortune offered their 'condolences' and hoped the thieves were not on a mission to make them the next victims by raiding the whole neighborhood for TV sets and other items.
A few minutes later, my father Zedi Kambilima who died on 15th June, 1991 came back from the police station accompanied by plain- clothed police 'officers whom I later came to know were from the criminal investigations department (CID).
I saw them smear something on the windows panes that were nicely removed by the thieves to gain entry. What that meant at first was a puzzle to me and many others. Upon inquiry, however, I was told they were checking for finger points.
My father and mother were interviewed for a few minutes after which the cops left and they assured the family that the criminals would be nabbed.
"Tizabagwila" one police officer was heard saying. After the officers had left dad organised for welders to put burglar bars on all the windows.  "But why did you forget to carry the TV to the bed room?" Sister Janet who was a pupil at Kakoso primary school then asked dad.
My dad had no words, but just looked at her. I am telling you, as a result of this tragedy the entire household had no appetite for our favourite staple food: Nshima. In the evening, we all gathered in the living room listening to radio programmes on dad's favorite orange ITT Supersonic radio set that was manufactured or assembled in Livingstone.
Two days later when I came back from school mum told me that my father was at the police station. When I asked what he was doing there, she said she had no idea. Later, we saw a police van with two handcuffed men and a closer look at the car they were in revealed my smiling dad.
I knew then that something good had happened. Yes, the thieves had been caught and our television set recovered. They were caught with our television set near Milyashi on the out skirts of Chililabombwe.
Unfortunately, the TV set could not be brought home immediately because the police had opened a docket against the thieves and they would use the TV as an exhibit in court.
I later learnt that the thieves were convicted and jailed for burglary and theft and sent to Chingola prison, but at last we were all happy that our television was back intact. I really have respect for the police officers that worked in the First and Second Republics.
In fact, at that time many of them were men no wonder they were called police men. They protected property and lives of people. I am appealing to our current crop of officers to emulate the officers of yester- year who joined the police force with a passion to serve and not because of a lack of employment. May God bless my daughter Tricia Kambilima who always looks forward to reader my articles.
Comments: 0973 026897 NB: Contributions to this column, the column you write, should be sent to The Editor, "It happened to me" P O Box 30394, Lusaka, email: tozletters@gmail.com or drop them at any of our Times Printpak offices.  Please note that it may take some time before articles are published; this is because they are published on a first- come- first- served basis. Don't lose hope. Keep sending in your valuable contributions. Editor.