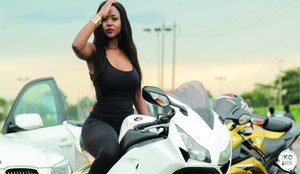 By SAM PHIRI –
IT's difficult to just place a finger on what really has raised Cleo 'The Ice Queen' to those high heights of fame!
Could it be her rap music or her internationally acclaimed standards of TV presenting?
Could it be her participation in Africa's biggest reality show Big Brother Africa the Chase?
Could it be her exceptional beauty, charming smile or inviting pair of eyes?
The entire aforementioned are shared reasons among her fans base that has continued to grow every single day.
The Ice Queen was recently at one of Lusaka's most happening night clubs, the Chez Ntemba VIP Lounge, where she shared the stage with South Africa's Multi-Award wining and highly talented DJ Cleo.
She doesn't forget those who have supported her to reach where she is now and says "Chez Ntemba is one club that has always had my back and supported me in my career."
She goes on to say: "Mr Augustine Kayembe (Chez Ntemba CEO) and his sons have not only
hosted me here in Zambia but in Chez Ntemba Cape Town and Chez Ntemba Johannesburg.
The Chez Ntemba VIP Lounge has always given me that superstar treatment and great hospitality such that I cant wait to be recalled for yet another show,"
But who is this Cleo?
Surprisingly, when all pointers are clear that this is a big time Zambian celebrity, Clementina Mulenga perceives her life in a different and humble way as she says: "I don't see my life as a celebrity kind of life, I just see it as an influential life where I enjoy every moment of it. I dress comfortably and I know this might surprise you that I don't often wear makeup because I don't try to live up to an image but just … I love to live freely … its more peaceful."
Although you might meet this beauty of a lady in different social gatherings the Ice Queen tries to go out a lot as her line of duty that makes her signature tick entails that she goes out hosting performances late night shoots among other engagements.
Cleo has a reason for that unique celebrity lifestyle as she says: "You know what; sometimes people tend to be expectant when I am out …and sometimes it turns out that you are not really what they expect you to be. So I try to avoid outings unless it is necessary."
What does this lady love then?
Cleo is a proud mother of one girl hence her preference of Kiddies restaurants with her daughter and some family. She also loves going out to cinemas or on a date. But with who?- A question that you might ask.
The Ice Queen is still enjoying her spinsterhood though she has a very interesting ambition that she would love to achieve in the next two years: "In two years time, by God's grace, I see myself married and hopefully pregnant, I love babies!" she says.
The 27-year-old  has a great dream and belief as she sees herself blossom in the world of entrepreneurship while on the other hand not throwing away what he helped create her signature; music as she says she will have a lot of studio time creating appealing music.
Cleo has one belief: " over the time I have learnt to take life as it comes , embrace every moment redeem the time we have been given because it is a gift and live right and to the fullest , so I take whatever life throws at me," Anything?
Hope a man will throw himself at you as a husband within two years!