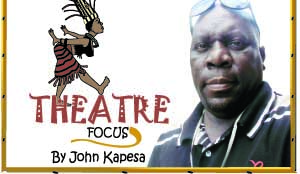 IT is recognised statistically, that in the literary domains, particularly in literature; script writing, short and long workshops and other trainings significantly sharpen the ability of participants' outward performance.
This is why at nearly all drama festivals, adjudicators always take time to appreciate the strengths and note the faintness of plays.
It is agreeably perceived playwrights have the onus skill to artistically knit together ideas in an orderly, contemporary and inventive manner – for the capture of the public and the benefit of the audience.
Very often, the obvious weaknesses in Zambian theatre are burdened upon theme-scripting, characterisation, structural artistic language before shifting to acting and directing.
Acting can sometimes be poor and unrealistic, unacceptable or and motionless.
Directors many times fail to tune their casts to conventional standards of performance. All this, once unmonitored can render our theatre uneventful and lifeless, boring and bland!
If described as lifeless and bland, then theatre to its peopleshould results in being irrelevant.
Theatre should not be a bore; it should never be poor, but flourish, evolving, enriching, educative and entertaining.
Last April, theatre critique, creative and inventive writer Samuel Kasankha, who was one of the adjudicators during the Mwansabombwe Theatre Festival in Luapula Province, observed the great need for short and long-term theatre workshops if predominantly play scripting were to advance.
This is why when the Chingola-based ABET Arts Promoters, under its director AcksonTembo engaged patrons and matrons of school drama clubs in drama workshops in Chingola and Chililabombwe, resultantly the performance in drama in these towns has been commendable.
There is more of organised drama in this area than before.
Last  year, ABET Arts Promoters collaborated with Kabundi Primary School's drama club to uplift the Chingola's school play Who is to Blame by David Malimba.
The play progressed to the national School Arts Association of Zambia (SAAZ) festival hosted by Mansa College of Education in Mansa, where I relished the role as one of the three adjudicators in drama.
ABET Arts Promoters, not long ago shifted to Chililabombwe where it engaged the teachers through the Ministry of General Education and conducted a fruitfulone-day drama workshop at The Key Academy, a private school.
The workshop was premised on the theme 'Improving Theatre Performances'and was attended bytwenty participants.
Specific topics included principles in script writing – techniques and demonstrations, stage play directing concepts, acting and use of stage dimensions, while production planning and management culminated into a Mini-Festival during which time the participants demonstrated putting to good use all they had learnt.
Moses Chabinga, formerly NATAAZ general secretary, who is the ABET Arts research and development manager went through the practical aspects of script writing – techniques and demonstrations, stage play directing and acting and usage of the stage.
Moses worked with upstart Edgar Chikombe Mulenga in carrying out the demonstrations.
The idea to involved Edgar according to ABET Artswasto deliberately develop, nurture and mentor young people to effectively take up roles and responsibilities now and in future.
Ackson Tembo facilitated on production planning and management; demonstrating how this is carried out from when first the producer conceives the idea to produce a play; casting, rehearsal and all the technical matters up to putting up successful performances.
Participants were further availed the opportunity to put to paper their ideas into short scripts, picked casts, directed, 'produced' and performed their plays during the presumed mini-festival.
Two scripts,The PeopleWe Vote into Power and Our Love were performed by the participantsand adjudicated by veteran actor KombeKaoma.
Kaoma said he was excited and pleased with the two minimalist plays as given enough time they would have been more mature.
He said, "The two plays were well executed exhibiting clearly that the rudiments of theatre learntduring the workshop were practically put into practice"
Kaoma, a Chililabombwe-based multi-talented actor, director, producer and folk musician added, "The workshop was an eye opener for most teachers in this town. This was a huge booster to the participants as was demonstrated by their enthusiastic participation."
Participants included Bridget Mambwe, Ernest Chisha, Gift Mwape, Alice Nankonde, MookaBeene, Katie Mulobeka and Agnes Mwandwe. Others were Marvis Zyambo, Andy Yauli and Monica Vamwayi, who all intimated they were availed an opening to exposure and exhibit what they had learnt during theworkshop.
As identified by ABET Arts Promoters, it is apparent from the success of the workshop more suchinteractive gatherings should be organised. With certificates of attendance presented to all the participants, one would not expect more as these papers can easily help those who wish to further their skills in theatre.
ABET Arts agreed to start a community theatre group in Chililabombwe in conjunction with The Key Academy and further assistschool leavers get into drama activities as well as those still in school.
Chalwe Kamukwamba, who is the director of the workshop host school, and chairman of the Private Schools Association in Chililabombwe disclosed that he would liaise with his colleagues and organise similar workshops to spread the skills acquired.
With the defunct Kamenza Theatre Club still under debate whether Konkola Copper Mines (KCM) will ever be revived, it would be well for theatre artists to rally their energies together and awaken the sleeping talents of the border town with another community theatre group.
Meantime, AcksonTembo emailed to this Column a scratchy mail expressing views over the NATAAZ team saying, "I am from reading your article in the Sunday Times; it is good to get an update that the Schools Arts Association of Zambia – SAAZ continues to be actively involved in the development of the theatre arts in Zambia.
If you recall the schools broke away from NATAAZ. It is clear now that the break away from NATAAZ has resultedin much more activities for the schools than for NATAAZ."
"What is NATAAZ up against? We need to know the state so that we  know  what is going on," Tembo went on, "I would like to urge the schools to carry on with what they are doing in promoting the arts. Art is a rich money earner from which school leavers can earn a living. What is happening with NATAAZ programs?"
@@@
Meanwhile, NAPSA theatre in Lusaka has what appears an electrifying and moving drama in the offing,The Red in the Flag.Written byKevin Kawana, whose ingenuity is noticed in the many other plays he has scripted, The Red in the Flag is a fashionable, yet up to date tale set in an imaginary African country following its colonization, and later political independence.
Directed by Isaac Kalumba, the play opens at Lusaka Playhouse on 8, 9 July with an exceptional cast that confidently will deliver the play to greater heights.
Eddie Tembo, an award winner for best acting leads in the main role as Humphrey Shema alongside the eloquent Vivian Nalili Ngoma as Shirley, his wife.
Dominic Sitamu plays Gregory, the globalised son with his wife Maria played by another reputable actress,Miriam Zulu.I am undoubtedly making a date to watch this a-must-see play – more about it next week.
Good to hear freelance actress Gift Muneka is out of Levy Mwanawasa hospital following a bout of severe malaria last week.
Speaking from Lusaka, Gift told me she was unconscious when she was taken ill by a group of fellow  theatre artists, but thankful to the Lord and God, that she is fine and out of danger, and will soon be getting back to her theatrical activities.
John.kapesa818@yahoo.co.uk (kapesakapesa818@gmail.com) – 0955-0967-0977-710975