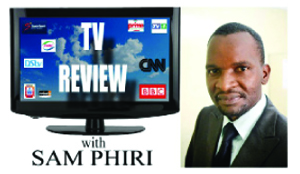 THE televising of political programmes on local channels seems to be on a low side as broadcasters are seemingly limited with ideas that can buy them good viewership during this prime-election period.
On ZNBC for example, there is a programme dabbed 'Know My Manifesto' anchored by Nabwalya Vlahakis.
To be honest this programme and its design has no glue to it such that many viewers actually have confessed changing channels once it starts due to its dreary nature.
Not the problem of the presenter but the concept coiner himself or herself depending on who came up with the idea.
Manifestos are 'promises' for political parties and this platform expected to see heated debates between the  host the guest as it is assumed that some things that are in minutes are just not attainable.
Now the way the questioning is done, one might recommend that ZNBC gives time to a particular political party to sell its manifesto without interruption.
This platform remembers two interesting programme that were coined by ZNBC called Race to Manda Hill and race to Plot One that were at least interesting as there was enough debate among candidates. Can ZNBC please revisit the ideas?
Once again, it has nothing to do with the presenter of the show but this platform feels it has much to do with the coiners of the idea.
Now last Sunday I was humbled to receive a mail from Ambassador Frank Mutubila who wrote to this platform at the wake of two cardinal issues raised in the last two Sundays and he wrote:
Hallo Sam,
I was reading the last Sunday review, which I do when ever I have time to go through all the papers.
The issue of Claudette Sindaza getting in a twist with names is unfortunate because she is usually a good reader.
However this could be attributed to less time spent on going through the bulletin.
I don't know about now-during our time we used to be in the newsroom at least no less than one hour before broadcast going through every story as news was being prepared after which a rehearsal was done with the staff involved with news production.
We also consulted on pronunciation and anything we were not sure of.
In terms of foreign names, we developed a network with diplomats (press attaches) who we counterchecked with.
Further in reference to Claudette this could have been lapse on concentration because the politician in question is well known and this gaffe should not have happened.
Speaking about casters, my personal reflection is that the casters are too many. It would be better to have a maximum of three casters who would do nothing but read news.
This would give them more time to spend in the newsroom and participate in the preparation of news.
Today's casters and indeed broadcasters must spend time going online to keep abreast with global news.
Broadcasters must appreciate they contribute to informed decision making. In terms of campaign coverage the norm should be to balance coverage.
I appreciate the challenges the public media go through but what more 'security' do journalists need when the President has given assurance non-interfearance!
Yes I agree that Muvi TV has been giving equal coverage and that is the way it should be.
In the absence of equitable coverage the station risks loss of viewers. Sam, do also try and cover more programmes on Muvi including 'Breakfast with the Boys plus One' which I core-present with Costa and Patience.
It's a great show so say the rave reviews we have received. Meanwhile keep up the good work. It's not easy to sit and watch TV that much.
Ambassador Mutubila
Thank you so much for your cardinal contribution and suggestion to our local television.
I will surely make date to see what you are offering in your new programme and will make give out my honest opinion on it next week.
Now, back to our local television, this platform feels there is need to be innovative when packaging local content especially during such a season packed with interesting content like the Euro 2016 Cup and COSAFA castle cup.
Many viewers are tuning to DStv to make sure they don't miss any action on SuperSport as the two soccer competitions have reached their zenith.
Still, talking politics, as alluded to last week, it is evident that two political parties namely the ruling Patriotic Front (PF) and opposition United Party for National Development (UPND) frontrunners.
However, equal coverage of all political parties still stands slanted. But taking a closer look at what is happening, ZNBC would claim equal coverage of all political parties but the problem arises of pictorial coverage.
I interacted with some staffers from ZNBC , Prime TV and Muvi TV  who told me that there are some restrictions drawn on which party they can cover or not.
Speaking on anonymity, a ZNBC staffer told this platform that covering the opposition party rallies was a huge risk to them and equipment as they were perceived to be pro – PF.
This is when the Vice President Inonge Wina's word of caution comes handy. She recently advised journalists not to take sides when reporting and be factual to avoid intimidation.
Away from politics and on a lighter note, we get back to the interesting world of soccer with one particular incidence that happened on Sunday when Zambia was taking on Swaziland on the knockout stages of the COSAFA cup.
I met Elias Chipepo at the Kenneth Kaunda International Airport and he was clad in a Chipolopolo replica jersey.
We had a chat on the match between Zambia and Swaziland which as a sports expert foresaw the downfall of Zambia to Swaziland; a fact strongly disputed and was ready to bate with cash.
I was fortunate because Mr Chipepo declined to attach cast to the bet but was very categorical on his stance that Zambia was not going to make it after analysing the team that travelled.
True to his words, Zambia lost and was booted out of the tournament. I was sad to see the national team suffer a second defeat after failing to qualify to the Africa Cup of nations.
But I was happy because I nearly lost a K500 to Mr Chipepo had he agreed to attach cash to the bet.
We end here today but pleased lets continue interacting on via text, WhatsApp or call 0974372181 or 0962215687. Email samphiri77@gmail.com